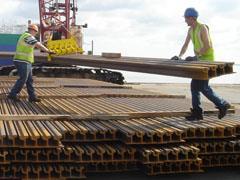 Australia: Macmahon Holdings has begun construction of Fortescue's 81 km Solomon Rail Spur in the Pilbara under a A$330m contract which includes four major bridges. Completion is scheduled for this year.
Austria: Niederösterreich transport authority Növog has awarded the Arge Bahnbau consortium of R&Z Bau and Leonhard Weiss a €22m five-year contract for track maintenance on its network of local lines.
Belgium: Infrabel and Alstom have agreed a 15-year framework worth up to €47·5m for the supply and maintenance of balises for 4000 signals. A firm order covers TBL+ driver assistance systems valued at €29·5m in 2013-18, with software upgrades for ETCS compliance by 2022.
China: MoR has ordered a rail milling train capable of working at up to 2 km/h from a joint venture of Maschinenfabrik Liezen & Giesserei and China Railway Large Maintenance Machinery Co.
Finland: Liikennevirasto has awarded VR Track a tendered contract to electrify the 85 km Rovaniemi – Kemijärvi line by December 2013 at a cost of €9·5m.
France: A consortium of Guintoli, Alstom and Egenie has won a €16m contract for civil and track works on the 2·5 km Arènes – Fer à Cheval extension of the Toulouse tramway. Alstom's €5m share of the work to be completed by late 2013 includes use of its Appitrack tracklaying machine.
INEO and Inexia have awarded Ansaldo STS a €47m contract to supply TVM430 signalling for the Tours – Bordeaux high speed line.
Hungary: Under a €70m contract Thales and Dunántúli are to provide interlockings, a control centre and ETCS Level 2 RBC for the 66 km Szajol – Püspöklandany line by the end of 2015 .
Italy: RFI has awarded Bombardier a €5·4m contract to design and supply signalling for the Roma Ostiense – Fiumicino Aeroporto route, and a €11·5m contract to supply control equipment for Roma Tiburtina station.
Norway: Jernbaneverket has awarded Bombardier two contracts covering the turnkey supply and support for 25 years of ERTMS equipment for a pilot project on the Eastern branch of the Østfoldbanen.
Poland: PKP PLK has awarded Halcrow a 3·4m złoty contract to design two single-track chords between Zabocie and Krzemionki in Krakow to eliminate the need for Zakopane trains to reverse in Plaszow station.
PKP PLK has awarded Tens a 26m złoty contract to install DSAT train fault detection equipment suitable for 200 km/h trains on the Warszawa – Gdynia route.
Saudi Arabia: SAR has awarded Al Rashid Trading a 1·57bn riyal contract to build stations at Majma'a, Qasim (Buraydah), Ha'il, Al Jawf and Al Qurayyat on the North–South Railway. Yap Merkezi has a 496m riyal contract to build a maintenance depot at Na'ariyah, while Sulaiman Al Qudaibi & Sons signed a 272m riyal contract to provide 15 track maintenance facilities and 19 other buildings.
Spain: ADIF has awarded a joint venture of Foster + Partners, GOC and Cabanelas & Castelo Arquitectos a €3·4m contract to design a €67m station at Ourense.
UK: Network Rail has awarded a series of framework contracts covering signalling renewal and enhancement works. Designed to provide certainty needed for efficient planning, the agreements with Invensys Rail, Atkins and Signalling Solutions commence run for two years from April 2, with options to extend to March 2019.
As part of the Edinburgh – Glasgow Improvement Programme, NR has awarded Morgan Sindall a £25m contract to modernise Edinburgh's Haymarket station. BamNuttall will undertake structure relocation works costing £27m, while Carillion will carry out track alterations for £3m.
NR has awarded Invensys Rail a £34·7m contract for Glasgow south suburban signalling renewals.
USA: New York MTA has awarded a Comstock/Skanska JV a $261m contract for the installation of railway systems for the Second Avenue Subway.