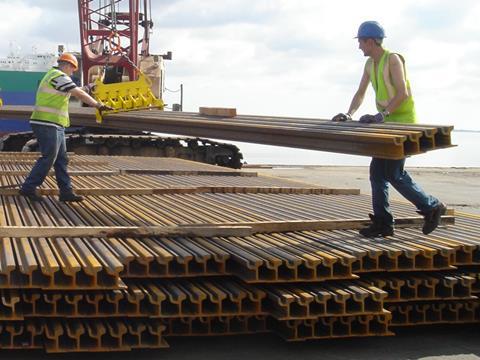 Austria: ÖBB Infrastruktur has signed a framework agreement with Symeo for the manufacture of at least 1000 Railpower Box and Railpower Box Mini GNSS-enabled onboard energy metering systems by 2018, with an optional extension to 2020.
Belarus: Chinese contractor CUEC is expected to complete the electrification of BC's 84 km Molodechno - Gudogai line leading to the Lithuanian border this year, and to modernise the 139 km Zhlobin - Kalinkovichi - Barbarov route by 2020.
Canada: Sersa Total Track has been awarded a three-year grinding contract to remove corrugation and reprofile the rails on Toronto Transit Commission's 6 km Scarborough ALRT line.
Chile: Metro de Santiago has awarded a joint venture of Strukton International and Arrigoni Engineering & Construction a €46m contract to build five underground stations on Line 3.
China: HollySys has been awarded two contracts to supply lineside signalling and control centres for the Harbin - Jiamusi and Jiujingqu high speed lines, valued at a total of 110m yuan.
The Bombardier NUG Signalling Solutions joint venture has won a 226m yuan contract to supply CBTC for Changzhou metro Line 1.
A consortium of China Railway Construction Corp subsidiaries and Qingdao Urban Construction Group Co has been awarded the PPP contract to build Qingdao metro Line 4. The contract has an estimated value of 22·9bn yuan over 25 years, with the five-year construction element worth 11·8bn yuan.
Congo: Italferr is to plan and supervise upgrading of CFCO's Pointe-Noire to Brazzaville line under a €9m deal.
Finland: Finnish infrastructure manager Liikennevirasto has ordered 5500 tonnes of rail from British Steel's Scunthorpe plant for delivery by April.
India: Robbins is to supply a TBM for the Mumbai metro project.
Iran: RAI and transport ministry department Cdtic have awarded a five-year €12m project management and supervision contract to a joint venture of Italferr and Iran Oston, to oversee the work of Chinese contractor CREC on the 415 km Tehran - Qom - Esfahan high speed line (RG 7.16 p52).
Poland: Electren has submitted the best offer for upgrading a 44 km section of the CMK trunk line between Idzikowice and Olszamowice for 200 km/h operation. Work is to be undertaken in 2017-18 at a cost of 53·7m złoty.
Torpol submitted the lowest bid for modernisation of the Pozna - Pia line, including realignment for 120 km/h operation and four new stations. The 585·7m złoty project is being co-financed by Wielkopolskie voivodship.
PKP SA has awarded Betonox Construction Sopot a 5m złoty contract for modernisation of the station building in Miechów.
Russia: Yakutia Railways has installed Bombardier Ebilock 950 signalling at Neryungri and Chulman on the line to Tommot and Yakutsk. Further stations are to be commissioned this year as part of a capacity expansion programme.
Czech manufacturer Prazská strojírna has supplied six remotely operated tram turnouts for use in Smolensk.
Taiwan: Sinotech Engineering Consultants has won a NT$2·6bn contract for project management and engineering supervision of the Green Line in Taoyuan, assisted by DB E&C. The 27·8 km metro is due to open in 2028.
UK: Transport for Greater Manchester has confirmed that MPact Thales and WSP Parsons Brinckerhoff will design and build the 5·5 km Metrolink light rail extension to the Trafford Centre.
USA: Harsco has supplied a third rail grinding train to infrastructure contractor RailWorks Corp, which is expected to order a fourth shortly.