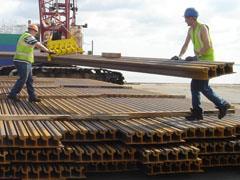 Australia: Within a 2010 framework, Ansaldo STS has been awarded an A$80·2m contract to supply signalling, communications and train control equipment for the doubling of Rio Tinto's 70 km single-track line from Emu Siding to Cape Lambert.
Algeria: Anesrif has awarded the Estel joint venture of SNTF and Siemens a contract to supply ETCS Level 1 for a 108 km line which will run south from Djelfa to Laghouat. Siemens' €68m share includes Trainguard 100 ETCS Level 1, Vicos operations control and Simis W interlockings for the six stations, along with GSM-R and RailCom Manager communications. Commissioning is scheduled for late 2015.
China: Samsung/Hsin Chong JV has appointed Mott MacDonald to design two underground stations and 1·6 km of bored tunnel for Hong Kong's Shatin to Central Link.
France: TSO and Eurovia Travaux Ferroviaires have awarded Vossloh a €60m contract to supply turnouts and rail fastenings for the Tours – Bordeaux high speed line.
Germany: Balfour Beatty Rail has won a €20·7m contract to electrify DB's 20 km Erzingen – Schaffhausen route. Furrer+Frey will supply rigid overhead for the 284 m Charlottenfels tunnel.
Kazakhstan: The Tines Manufacture Railway KAZ joint venture of Magnetik and Polish firm Tines has begun production of concrete sleepers and ballastless track components.
Malaysia: Contractor George Kent (Malaysia) has awarded Thales a contract to provide SelTrac CBTC for Kuala Lumpur's Ampang metro line and Putra Heights extension.
Netherlands: Strukton is expanding Amsterdam metro's Diemen depot to accommodate new Alstom Series M5 trainsets, which at 116 m will be significantly longer than the current 80 m trains.
Norway: Baneservice has won a NKr197m electrification renewal contract covering Jernbaneverket's 62 km Jærbanen route between Egersund and Sandnes.
Mott MacDonald is to provide detailed designs for a €90m workshop and depot with a capacity of 50 to 70 LRVs which will serve the Bergen tramway from 2015.
Jernbaneverket has awarded Thales a framework contract covering the supply of non-ETCS signalling over the next 10 years, with maintenance for 25 years. Specific contracts worth NKr240m have been signed for the Sandnes – Stavanger line, Gandal freight yard and Høvik station.
Poland: Budimex has won a 113m zloty two-year contract to modernise 6·5 km of the Kraków – Nowa Huta tram line to reduce journey times.
PKP PLK has awarded FCC Cons-trucción a 537m złoty contract to modernise the 30 km Poznan – Czepin line for faster running.
Strabag has won a 65m złoty contract to reopen the 18·6 km Duszniki Zdrój – Kudowa Zdrój line, and a 8m złoty contract to upgrade the 11 km Lebork – Maszewo Leborskie line serving an army base.
SKM Trójmiasto has awarded Bilfinger Berger an 11·6m złoty contract to rebuild Gdansk Zabianka AWFiS station.
Saudi Arabia: Saudi Archirodon has ordered a Plasser & Theurer EM 120 track recording car equipped for corrugation measuring, and Al-Mobty has ordered a cyclic-action two-sleeper Unimat 08-32 4S tamper for plain line and turnouts.
Switzerland: Siemens has signed a contract to supply Simis IS interlockings, LCM 200 level crossing equipment and Iltis operations control systems to replace life-expired equipment on the Mörel – Münster and Andermatt – Disentis sections of the Matterhorn Gotthard Bahn, completing a phased upgrade begun in 2006.
Turkey: Alstom has selected Huawei to supply GSM-R for the Eskisehir – Balkesir route.
TCDD has awarded Nokia Siemens Networks and Thales a contract to upgrade the GSM-R infrastructure on the Eskisehir – Ankara high speed line to support an increase in train frequencies.
USA: At cost of $25·7m, four underbridges are being built to enable pedestrians to cross the Lossan rail corridor in Encinitas, California. TY Lin is design engineer, Flatiron general contractor and Caltrop is responsible for construction management.
Denver RTD has appointed Aecom to provide final design services for the 16·8 km I-225 light rail line project.
Chicago Transit Authority has awarded Kiewit Infrastructure Corp a $220m contract for track works on the Red Line South modernisation.