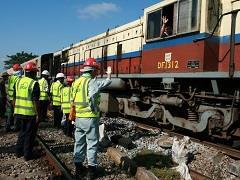 MYANMAR: An agreement covering the ¥40·6bn third tranche of an official development assistance loan to finance Phase 1 of the Yangon – Mandalay Railway Improvement Project was signed by the government and Japan International Co-operation Agency on March 31.
Phase 1 aims is to improve the capacity of the route by rehabilitating and modernising the 260 km section of the north-south main line between Yangon and Toungoo.
The work includes construction or rehabilitation of civil engineering structures including tracks, bridges and a depot, signalling and telecom improvements, electrical works and procurement of rolling stock.
The project is being managed by Myanma Railways and the Ministry of Transport & Communications. Contracts have already been awarded, and completion of the civil works is planned by December 2023.
The 40-year loan has a 10-year grace period and an annual interest rate of 0·01%
Japan agreed the first tranche ODA loan worth ¥20bn in September 2014, and the ¥25bn second tranche in March 2017.