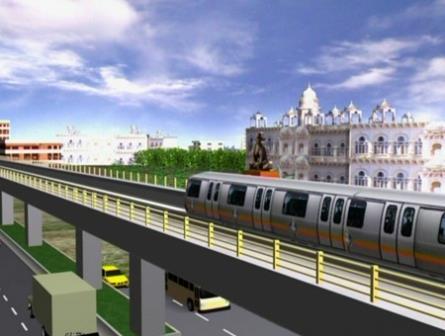 INDIA: Keolis announced on May 9 that it had been awarded a €300m contract by Larsen & Toubro Metro Rail to operate the driverless elevated metro now under construction in Hyderabad. The contract is for a term of eight years with a three-year extension option.
The first 7 km of the Hyderabad metro is due to open around the end of 2014. During the construction phase Keolis will advise L&T which is building the new network, and will also recruit and train operating and maintenance personnel.
Serving a city of 9 million inhabitants, the Hyderabad metro is expected to carry around 1·5 million passengers a day. When fully complete, the three-line network operated with 57 trainsets will cover 71 km and serve 66 stations.
'We are delighted at this decision and the whole team is ready for the off', said Bernard Tabary, Director General, International, at Keolis. 'It is an important step for the Keolis group which is establishing itself in Asia for the first time, opening up new perspectives in this region'.