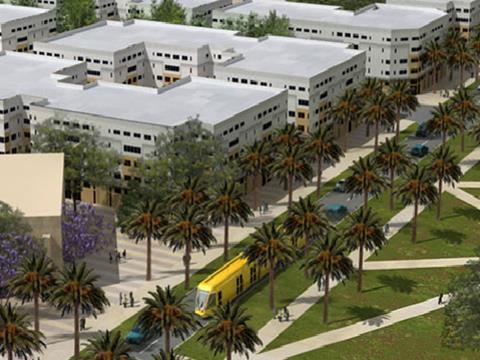 SAUDI ARABIA: Egis Rail is undertaking studies for a proposed automated light metro to serve the King Saud University campus in Riyadh. Construction could start within two years.
The university said the proposed metro would provide staff, students and visitors with a 'high-quality, frequent service', reducing the need for road transport and thus enabling land currently used for car parking to be converted into gardens or retail areas.
The route is still to be finalised, but it is envisaged that the campus metro would serve Medical City, where 20% of journeys originate, and include an interchange with the proposed Riyadh metro on King Abdullah Road. An eastern loop would serve halls of residence, sports and entertainment facilities, with a western loop running via the central service areas. Both loops would serve the Riyadh Techno Valley science park.
Last year Railway Gazette International took an exclusive tour of the 11·5 km driverless light metro at Princess Nora Bint Abdul Rahman University in Riyadh.