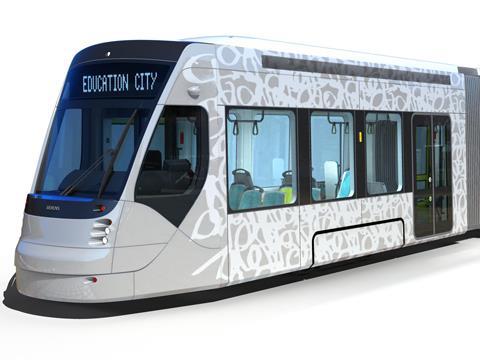 QATAR: Siemens Rail Systems has been awarded a turnkey contract valued at more than €100m for the development of a 11·5 km catenary-free tramway in Doha for opening in late 2015.
The contract announced on July 30 has been awarded by the Qatar Foundation for Education, Science & Community Development, which is creating a 1 500 ha car-free education and research campus to the west of Doha under the Qatar National Vision 2030 strategy.
The standard gauge tramway will have a fleet of 19 three-section Avenio 100% low-floor trams. These will be 27·7 m long and 2 550 mm wide, with a capacity of 239 passengers. Equipment to cope with the local climate will include powerful air-conditioning and sunshades to the protect roof-mounted electrical equipment from radiant heat.
The Avenio trams will be fitted with Sitras Hybrid Energy Storage units, comprising double-layer capacitors and a traction battery. Eliminating the need for conventional overhead electrification, the Sitras HES units will be charged from 750 V DC overhead conductor rails to be installed at each of the 25 stops.
Leighton Contracting Qatar has a US$124m contract covering design and construction of the track, stops, depot and administration building. Four of the stops will have platform edge doors.
Plans for rail transport development in Qatar were detailed by Qatar Rail CEO Saad Al Muhannadi in the March 2012 issue of Railway Gazette International, which subscribers can access in our digital archive.