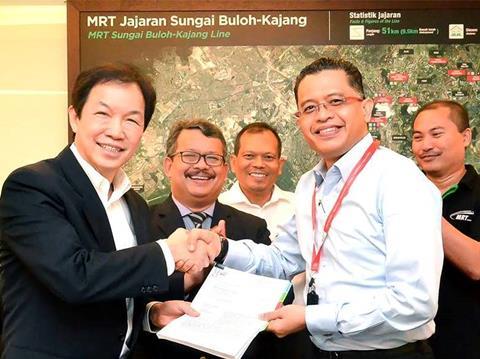 MALAYSIA: Klang Valley Mass Rapid Transit announced on March 31 that it had selected MMC-Gamuda to build the underground section of Klang Valley MRT Line 2, also known as the SSP Line.
MMC-Gamuda beat China Railway Group and China Communications Construction Co for the 15·47bn ringgit contract. This is the largest of 66 works packages for the 52·2 km line with 37 stations which would link Sungai Buloh to Putrajaya via Serdang. It covers the construction of 13·5 km of tunnels and associated works, as well as 11 underground stations. The underground section would run from Jalan Ipoh in the north to the Desa Waterpark in the south.
In October 2014 Klang Valley Mass Rapid Transit appointed Gamuda and MMC Corp to form a joint venture to build Klang Valley MRT Line 2.
Two other works packages have so far been awarded. Ahmad Zaki is building the 4·5 km elevated section from Pesiaran Dagang to Jinjang under a 1·44bn ringgit contract, and Sunway Construction has a 1·21bn ringgit contract to construct the 4·9 km elevated section from Sungai Buloh to Pesiaran Dagang.