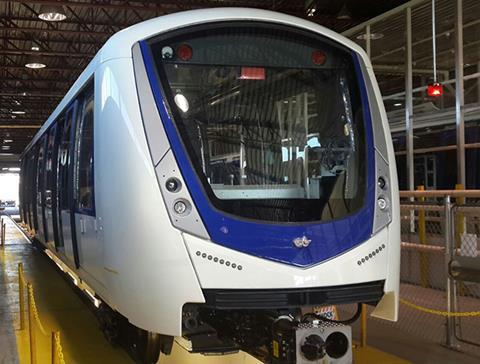 MALAYSIA: The first of 14 driverless Innovia metro trainsets ordered as part of the project to extend Kuala Lumpur's Kelana Jaya Line is due to arrive at Port Klang in the first week of December.
Prasarana placed the order with a consortium of Bombardier and Hartasuma. The first set was shipped on October 18 from Bombardier's Kingston plant in Canada, where the trains are being assembled. Upon arrival in Malaysia, the trains will be sent to the Bombardier-Hartasuma plant in West Port for interior fit-out and testing.
According to Prasarana, the second trainset is 71% complete and is due to be shipped in December. The remaining 12 sets are to be delivered in stages next year. When complete, they will be sent to the Kelana Jaya Line's Subang depot. Each train will need to complete 2 000 km without a major failure before it is released for revenue service when the 12-station Kelana Jaya Line extension from Kelana Jaya to Putra Heights opens on June 30.
Meanwhile, deliveries of 50 six-car trainsets for the Ampang Line from CSR Zhuzhou are ongoing, having started at the beginning of this year. The first 5·5 km of the extension, from Sri Petaling to Kinrara BK5 with four stations, opened on November 1. The second phase, which will add seven stations, is due to be inaugurated on March 31.