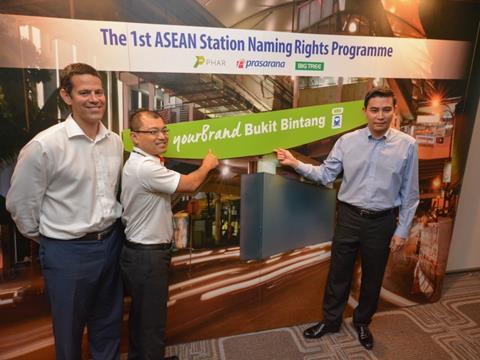 MALAYSIA: The first three sponsors for Kuala Lumpur's Station Naming Rights Programme have been announced. AirAsia, Bank Rakyat and Suez Capital will each brand one station from August.
The programme, intended to provide non-fare revenue to transport agency Prasarana, is being undertaken by advertising agency Big Tree Outdoor and marketing and sponsorship specialist Phar Partnerships. According to Phar, this is the first programme of its kind in southeast Asia.
AirAsia has bought rights to Bukit Bintang monorail station and Bank Rakyat to Bangsar on the Kelana Jaya Line. Universiti station on the Kelana Jaya Line is to be renamed KL Gateway – Universiti with sponsorship from Suez Capital.
'With AirAsia, Bank Rakyat and Suez Capital now investing in the transformation of the stations, we are expecting more interest in the concept which is part of Prasarana's commitment to continuously upgrade, improve and evolve Kuala Lumpur's transportation system for the benefit of the commuters and transform the capital into a world class city', said Prasarana Group Managing Director Azmi Abdul Aziz.