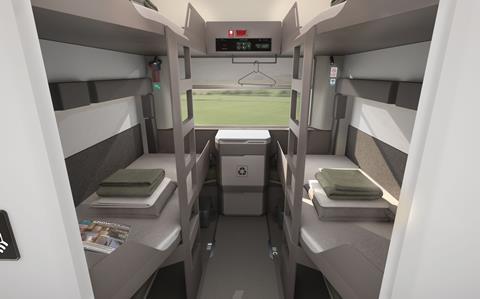 ITALY: National passenger operator Trenitalia has awarded a consortium of Škoda Group and Titagarh Firema a contract to supply up to 370 sleeping cars which the Czech company says will offer an 'extraordinary travel experience with greater comfort, privacy and a tranquillity resembling a conventional hotel room'.
Comfort, DeLuxe and Economy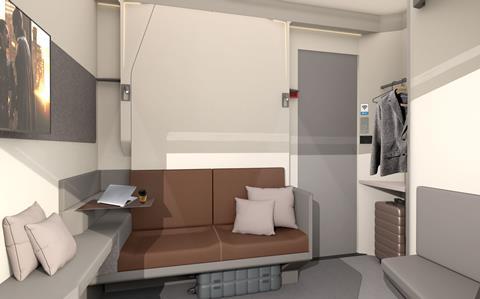 The framework contract awarded through a negotiated procedure is worth €732·5m excluding VAT
There is an initial €138·6m order for 22 DeLuxe, 44 Comfort and four Economy coaches, which will enable Milano – Palermo – Siracusa services to be operated using completely new rolling stock.
The DeLuxe coaches will have six single and two twin berth compartments, each with its own toilet and shower and individually adjustable air-conditioning. There will be a small kitchen with electrical appliances.
The Comfort cars will have seven compartments each with four beds and a own washbasin. One larger compartment will be designed for people with reduced mobility and their companions, and there will be an accessible toilet and boarding facilities.
The Economy coaches will have a spacious 2+1 seating arrangement, with dividing walls, armrests, oversized headrests and individual lighting. The wide aisle will allow 'comfortable' use of the interior space when the train is moving, while the vestibule area will have luggage racks and storage spaces. There will be one toilet on each side of the vestibule.
Partnership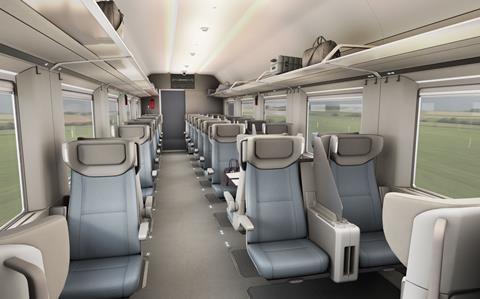 Škoda Group said the order reflects the growing popularity of night train travel in Europe.
The company opened an office in Firenze to target the Italian market in October 2022, and has since been awarded the sleeping car contract and an order to supply trams to Bergamo.
'I'm thrilled that another European carrier trusts our more than 160-year tradition in vehicle manufacturing and has ordered sleeping coaches with a distinctive footprint', said CEO Didier Pfleger on August 9.
The coaches will be produced in Italy by Caserta-based partner Titagarh Firema, which Pfleger said would bring 'expertise and excellent local market knowledge'.
Titagarh Firema CEO Carlo Logli said the order was important for Trenitalia, Italy and the company, and he hoped the partnership with Škoda 'will be the first of many more fruitful collaborations in the future'.