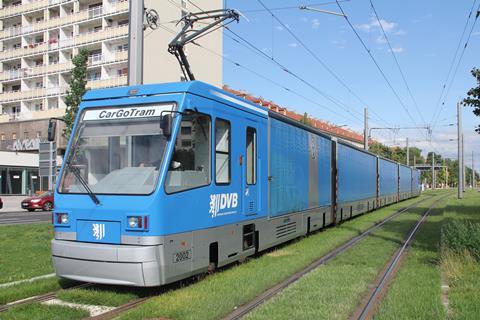 GERMANY: The CarGoTram freight tram service which carried automotive parts to a Volkswagen factory in Dresden has ended, following the car manufacturer's adoption of a revised logistics approach with the switch from production of the e-Golf car to the all-electric ID.3.
The final CarGoTram service on the 5·5 km route from Dresden-Friedrichstadt station to the factory had been scheduled for December 23 2020, however operations were brought to a premature end by a collision with a van on December 10.
The freight tram was first proposed when the Dresden car factory was being planned, to avoid the need for to transport components through the city by lorry.
A total of five cab cars and seven trailers were ordered from Schalke Eisenhütte, and operated as two 59·4 m long five-section trams with a capacity of 60 tonnes or 214 m3. The trams used Dresden's unusual 1 450 mm gauge.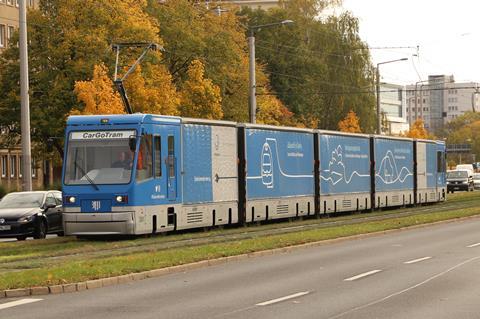 Operation began in 2001. The initial plan had been to run 30 CarGoTram services per day, however in 2003 there were 10 per day, and in 2015 just three per day. Operations were further reduced when the factory changed its production programme in March 2016, with trams operating occasionally to transport parts for e–Golf cars.
The switch to the production of the ID.3 brought a change in factory's logistics. Components sourced from across Europe are now consolidated at Volkswagen's Zwickau plant, with the Dresden site's requirements met by the despatch of fully loaded lorries from Zwickau directly to the factory. This reduces the number of daily lorry deliveries to Dresden from 25 to four, and Volkswagen also plans to start using fuel cell trucks between Zwickau and Dresden in Q2 2021.
The trams were also proving costly to maintain owing to a lack of spare parts, and breakdowns were occurring increasingly regularly. 'The blue trams thus made little sense economically or in terms of climate policy', a spokesperson for Volkswagen told Metro Report International, and so it did not renew its contract with city transport operator DVB.
DVB told Metro Report International that it has offered to buy the CarGoTrams, and envisages they could be used for postal and parcel traffic, as works cars, or could be converted into rail grinders.
A freight tram service in Zürich is now thought to be the last in western Europe.