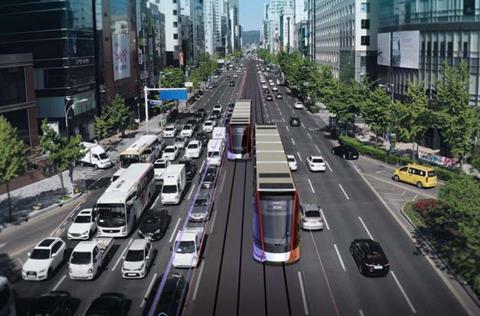 SOUTH KOREA: A study has found that the development of a hydrogen-powered tramway in Ulsan would be feasible, Minister of Land, Infrastructure & Transport Won Hee-ryong announced on August 23.
Construction could start in 2026 for completion in 2029 at a cost of 328bn won.
The proposed line would be 11 km long with 15 stops, connecting Taehwagang railway station in the city centre with Sinbok to the west.
Hydrogen-powered trams would be used for catenary-free operation; Hyundai Rotem unveiled a demonstration fuel cell-powered tram at the Korea Railways & Logistics Fair held in Busan in June.
Ulsan Mayor Song Cheol-ho announced plans for a four-line tram network in July 2019, and feasibility study was commissioned by the Ministry of Finance & Economy in February 2021.