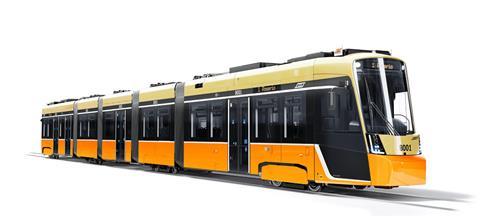 ITALY: Stadler has signed a framework agreement to supply Milano transport operator ATM with up to 50 Tramlink trams of two types.
The agreement announced on June 22 covers up to 25 three-section, 25 m long medium-capacity trams and up to 25 five-section 35 m long high-capacity trams.
There is a firm order for an initial 14 of the high-capacity variant, financed by the National Recovery & Resilience Plan, with delivery required by June 30 2026.
The high-capacity trams will be bidirectional, with low-floors, two areas for wheelchair users and four doors per side.
The medium-capacity trams would be similar to 60 vehicles which Stadler is currently supplying under a 2020 framework agreement for up to 80; the first of these is currently on test in Milano.
The bogies will be designed for smooth and low-noise running on sharp curves. Stadler says particular attention has been paid to the safety of passengers, drivers and pedestrians, with the cabs designed to maximise visibility, cameras covering blind spots and an anti-collision device able to intervene if it detects a potential collision.
The manufacturer will provide a five-year warranty.
'Our vehicles are a benchmark in terms of performance, reliability, safety, universal accessibility, comfort and state-of-the-art technology', said Iñigo Parra, CEO of Stadler Valencia. 'We are convinced that they will be a success also here in Milano.'