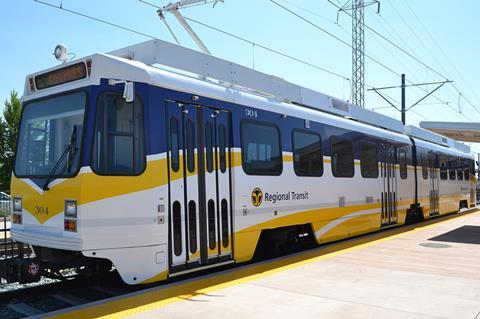 USA: Sacramento Regional Transit District has been awarded two further grants from the California Transportation Commission to help fund its $610m light rail modernisation programme, which includes capacity improvements and the procurement of new low-floor light rail vehicles to replace life-expired high-floor cars.
SacRT was awarded $33∙9m from the $67m allocated to the Placer-Sacramento Gateway Corridor project as part of the state's Solutions for Congested Corridors initiative. This will support the purchase of eight low-floor LRVs and the raising of platforms by 200 mm at four of the 12 stations on the Blue Line that are being rebuilt to provide near-level boarding using automated ramps on the new vehicles.
A further $1·6m from CTC's Local Partnership Programme will support work on the Gold Line modernisation. This will be combined with the $23·6m awarded earlier this year from the Transit & Intercity Rail Capital Programme to support the purchase of another eight low-floor LRVs for that route.
SacRT had previously been awarded $184·5m in state and federal funding towards its light rail modernisation. It has awarded a framework contract to Siemens Mobility for up to 76 low-floor LRVs, and signed a firm order in April for an initial 20 to be delivered from early 2023.
'This funding will be critical to improving quality of life and accessibility by providing more access points for those using mobility devices on our light rail system', said SacRT General Manager & CEO Henry Li when the latest grants were announced on December 4. 'This significant investment in the modernisation of the region's transit system shows tremendous confidence in Sacramento's growing economy and ability to rebound after the Covid-19 pandemic.'