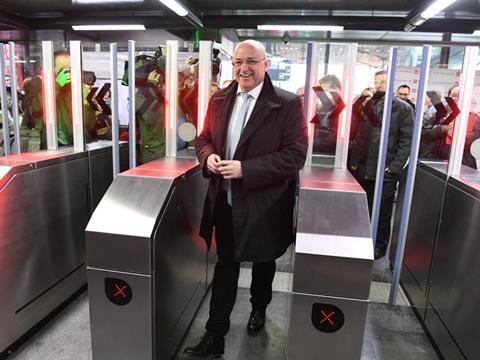 FRANCE: The Lille metropolitan authority has begun a €60m programme to install ticket gates at all 60 stations on the city's metro network. The first gates came into use at Gare Lille Europe on November 30.
During the course of 2018 it is planned to commission gates at Gare Lille Flandres, République, Porte de Douai, Porte des Postes, Eurotéléport and Tourcoing-Centre. The programme is due for completion by the end of 2020.
With the authority already meeting two-thirds of the cost of public transport operations, its President Damien Castelain said that it was imperative to increase the proportion of operating costs covered by fare revenue.
The objective is to reduce the incidence of fare evasion to 6∙1% from its current level of 12∙9%. Noting that gating the metro network in Lyon had cut fare evasion from 17% to 7%, Castelain said that the investment quickly paid for itself as reducing fare evasion by one percentage point was worth €800 000.