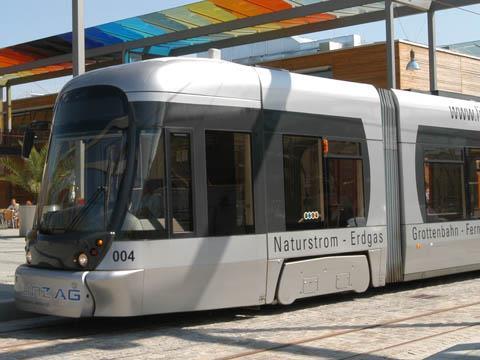 AUSTRIA: Bombardier Transportation has received a €69m order from transport operator Linz Linien GmbH to supply a further 23 Flexity Outlook trams.
They will be a development of the 33 Cityrunners which have been in service in Linz since 2001, and were the first 100% low-floor trams with conventional wheelset bogies to be supplied.
The new cars will be manufactured at Bombardier's factories in Wien and Bautzen, with delivery of the first vehicles planned for the early 2011. They will be 40 m long and 2 300 mm wide, with space for 224 passengers.
Grego Peters, President, Light Rail Vehicles, Bombardier Transportation explained, 'the design of the new vehicle was developed together with Linz Linien and is based on operating experience gained with the existing tram fleet.' The exterior design corresponds to the corporate design of Linz AG.
A subsidiary of Linz AG, Linz Linien runs a 180 km transport network comprising three tram, 21 bus and four trolleybus routes plus the Pöstlingbergbahn.
At the end of May, Linz Linien relaunched the Pöstlingbergbahn tramway, which is now operated by four Bombardier Cityrunner trams with retro-styling. The cars are 19·2 m long and 2 300 mm wide and have specially reinforced electro-dynamic braking and track brakes to cope with gradients of up to 11·6%. The line has been regauged from 1 000 mm to 900 mm to match the rest of the city's tram network.