Testing of CBTC on the Queens Boulevard corridor of the New York Subway is due to begin this month, bringing to fruition a 25-year plan for interoperable train control technology. But the landmark comes against a backdrop of intense political pressure to accelerate modernisation of North America's largest metro network. Nick Kingsley reports from New York City.

How do you solve a problem like the Subway? In the past three years alone, New Yorkers have been subjected to a 'summer of hell' and a 'state of emergency' as reliability of North America's largest metro network has plummeted, ridership growth has stalled and political pressure for improvements has ratcheted up to an extent not seen for three decades.
To the consternation of commuters and politicians alike, one specific aspect of the Subway has emerged as its Achilles heel: the signalling. The 380 km network remains overwhelmingly reliant on legacy electro-
mechanical equipment using lineside signals and fixed block principles, offering very limited potential for traffic management, optimisation of train speeds or even the provision of real-time information. Timing switches and mechanical tripcocks provide an overlay to protect against passing signals at danger and overspeed incidents.
The limitations of the Subway's signalling have been apparent for many years: in 1991-95, there were two fatal accidents, plus a third which left 45 people injured, where train protection deficiencies were found to have been a principal factor. In the aftermath, MTA New York City Transit identified the roll-out of Communications-Based Train Control as the key to delivering a safer and more reliable network, thus embarking on a programme that has endured for 25 years and could yet run for another 25.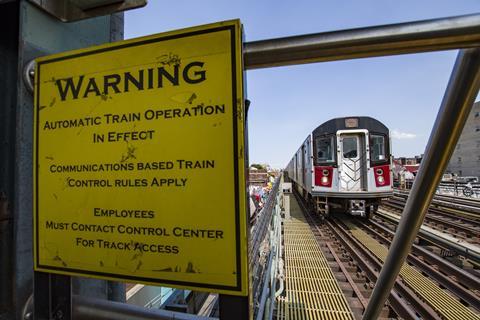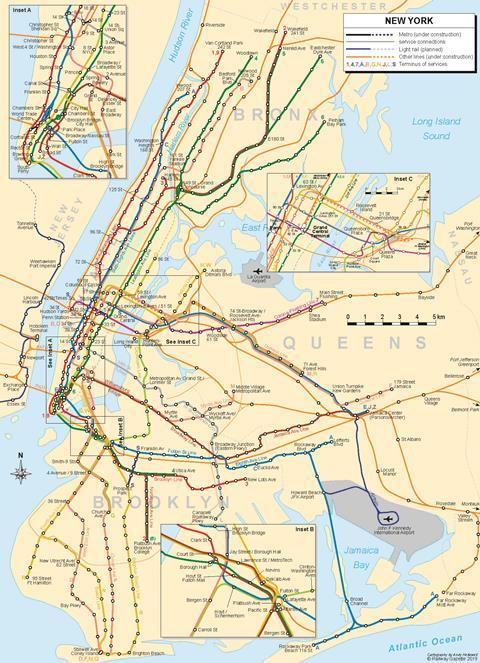 A long history
Assessing how to proceed, NYCT issued a Request for Proposals in August 1995 for a contract to 'manage the development of transmission-based signalling' which would not be tied to specific proprietary technology. The thinking was that this would initially be deployed on the largely self-contained L-Canarsie Line linking Manhattan with Rockaway Park in Brooklyn.
In order to provide multiple sources for procurement, NYCT decided to adopt a 'leader-follower' strategy, selecting both a winning bidder and one or two followers able to supply compatible equipment. Its initial request for proposals produced six responses, of which three consortia were shortlisted in 1998 for a demonstration phase which lasted until mid-1999.
At the end of that year, NYCT selected a consortium led by Siemens, using technology developed by the Matra Transport International business in which it had taken a 95% stake in October 1998, Union Switch & Signal (now part of Hitachi Rail STS) and LK Comstock. The CBTC platform initially proposed was derived from that installed on Line 14 in Paris. In December 2000 two follower contracts were awarded to Alcatel (now Thales) and Alstom.
'NYCT's strategy was to award three contracts to three separate suppliers, with the technology being interchangeable and interoperable', says William Conis, Director of Business Development for Passenger Rail at Siemens Mobility Inc. 'The idea at that time was that you could have wayside equipment from one supplier and onboard equipment from any of the others. Interchangeability took that one step further, especially for the onboard unit, by implying that in theory you could mix the hardware and software from any of those three suppliers on a vehicle.'
The L-Canarsie deployment immediately made clear just what a challenge NYCT and its contractors were facing, since the CBTC being deployed necessitated a technological leap of several generations. 'There were no solid state interlockings on the line, everything was relay-based', explains François-
Xavier Beau, Head of Integrated Systems for Siemens Mobility in New York City. 'We had to try to understand how CBTC could interface with this legacy system, and work in the context of the operational requirements. It has taken years to understand. To ensure vital control, we had to fully understand how our technology would have to interface with the legacy equipment which NYCT wanted to retain.'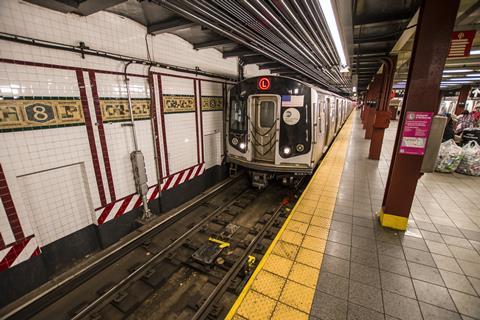 By 2003, the scale of the challenge was becoming clearer, and the various programme participants recognised that the aspirations for interchangeability were not likely to be realistic. Around the same time, the financial troubles affecting Alstom at a corporate level saw it drop out of the signalling programme.
Meanwhile, serious technical hurdles were still emerging, especially around the 'air gap' interfaces between the train and wayside equipment. 'We found that the transmitter and receiver needed to be completely identical, and that it was just too hard to expect multiple suppliers to design completely matching products. The R&D requirement was too high', Beau recalls.
While most CBTC applications around the world to date had been based on 'leaky feeder' cabling to provide radio coverage, the Canarsie project would instead deploy wireless communications. 'This was the first time such an approach had been tried, and again it is essential to understanding how the Subway modernisation has got to where it has today', Conis emphasises. 'NYCT was very concerned about reliability, robustness and interference. Siemens and NYCT ended up custom-designing a radio system as a result, and it has become the standard with which the other suppliers have had to interface.'
CBTC makes a difference
The first CBTC-equipped trains ran on the Canarsie Line in January 2006, only for NYCT to find that a wave of urban regeneration in Brooklyn 'had transformed the sleepy little L Train into a seriously busy route', according to Conis. NYCT had only equipped enough trainsets to provide the level of service needed at the time the programme began. By the time NYCT had equipped another 16 trainsets, a further five years had elapsed. CBTC was eventually rolled out across the whole line in early 2011. Today L-Canarsie trains operate under full ATO in Grade of Automation 2; an operator still rides on each train to intervene in emergencies.
With the pilot line finally operational, NYCT began to look at the next resignalling project, this time to be led by Thales. A $343m contract was awarded in June 2010 to overlay CBTC on the 7-Flushing Line between Flushing Main Street and Times Square; the scope was later expanded to include the extension to 34th Street/11th Avenue. This project entailed modernising the 1st Avenue and Times Square interlockings and equipping the line's rolling stock fleet with CBTC. Resignalling of the 16 km route, which is partly triple-tracked to accommodate peak hour express trains, was completed in November 2018.
Beau and Conis are clear that CBTC is already making a difference. 'Both the lines where it has been fitted to date are showing on-time performance in excess of 90%', Conis reports. In the 12 months from June 2018, on-time performance on the 7-Flushing Line improved from 61·1% to 90·2% (Fig 1).

Interoperability goal
With two CBTC-equipped lines in service by the start of this year, the benefits of partial automation of the Subway were starting to be realised. But the ultimate objective of supplier-independent interoperability remained elusive, with Siemens having equipped one line and Thales the other.
That should all change this month, when test operation of interoperable CBTC starts on the Queens Boulevard corridor ahead of the launch of revenue operations in March 2020. This watershed marks the culmination of a combined effort to crack the interoperability problem.
In 2011, MTA awarded a four-year contract worth $60m to Siemens and Thales for the development of a set of common specifications which could be used as a standard for future CBTC projects across the network. Under this approach, any supplier with compliant equipment could be chosen to supply wayside or onboard assets.
The partners combined to develop an Integrated Test Facility comprising laboratories and a short section of the F/G-Culver Line in Brooklyn between 4th Avenue and Church Avenue interlocking. One of three tracks on the line was taken over for trials aimed at replicating the various operating conditions found across the Subway.
Better information from A to B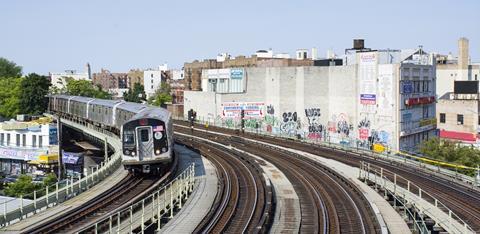 The Subway is run as two essentially separate divisions which hark back to the three constituent metro networks which were unified in June 1940. The small-profile A Division comprises the numbered lines 1-7 plus the 42nd Street Shuttle. This makes up around a third of the network by route-km. The remaining lines are denoted by letters and form the much larger B Division.
A pressing priority for NYCT over the past 20 years has been to improve the real-time location data and information provision across the network. However, this is problematic when the legacy signalling is controlled from local towers (signalboxes). When CBTC was still a long-term aspiration, NYCT began to install Automatic Train Supervision across the A Division in the early 1990s.
Working with contractors including Parsons Inc, Siemens and LK Comstock, ATS saw control of 23 master towers and dispatch offices migrate to a single Rail Control Center in Manhattan from 2004. LK Comstock installed microprocessor-controlled field code units, optic-fibre cabling and data processing units at the RCC, as well as fitting wayside automatic vehicle identification across the division.
This centralised traffic control function enables traffic to be managed in real time, with the control centre staff having a clear view of the status of traffic. It also enables real time information about station arrivals to be shared via passenger information systems.
However, little of this functionality has yet been provided on the B Division, despite several attempts by NYCT to start procurement of an ATS-B programme. RCC staff still rely on static displays and voice communications to understand train location, and have limited ability to regulate traffic across multiple lines or busy junctions. Incident reporting relies in some cases on paper notes affixed to a network map; any regulating decisions have to be passed to the local signalboxes for implementation.
This should soon start to change, as the QBL CBTC contract also covers roll-out of ATS across the B Division, which will be led by Siemens.
ATS will be deployed with three levels of functionality: full supervision where CBTC is operational; remote interlocking control; and a form of limited supervision of local electro-mechanical signalling to report location data and other traffic management information.
The first groups of B Division control staff will start to use ATS this summer; a lesson from the earlier deployment is to ensure that end users begin using the tools as soon as possible. ATS is expected to be fully deployed by June next year. 'Given the current technology available to the control staff, the level of service on B Division is already remarkable', says one industry insider.
CBTC comes to Queens
By July 2015, NYCT felt confident enough to begin procurement for the Queens Boulevard programme. Two 67-month contracts were given to Siemens ($156·2m) and Thales ($49·6m), while a separate $1·2m contract was awarded to Mitsubishi Electric Power Products to develop and test CBTC, with the aim of qualifying the company as an additional supplier for future projects.

The first phase of QBL covers the introduction of CBTC on both the Local and Express tracks serving the E, F, M and R lines from east of Kew Gardens/Union Turnpike station in Queens to north of 47-50th Streets/Rockefeller Center station and south of 50th Street station in Manhattan (Fig 2). This 15·6 km section includes 21 stations and seven interlockings; project completion is expected by the end of 2021.
Beau explains that the QBL programme embraces the full complexity of the Subway, requiring CBTC wayside assets to be fitted to a pair of Express and Local tracks used by several services at different points on the corridor.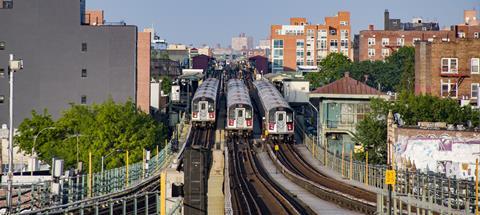 The majority of the 309 R160 Subway cars being equipped will be fitted with Siemens Trainguard MT CBTC onboard equipment, but a handful of the trains using the line will be equipped by Thales. The same approach applies to the wayside equipment, where Thales is fitting one section in Queens with its SelTrac equipment and Siemens has the remaining QBL sections in Queens and Manhattan. The zone controllers, centralised traffic control equipment and transponders are all from Siemens. As with the Canarsie scheme, the QBL equipment will use the customised wireless radio link developed for NYCT. 'A lot has changed in the past 25 years, but this is the first time that we are going to implement the full vision', Beau emphasises. 'It is a mix and match of everything.'
As with the two pilot schemes, QBL will see the trains equipped to operate under CBTC with manual control (ATP mode) or in automated fashion (attended ATO mode); drivers will have the option in the cab to switch between the two. However, the CBTC also includes a 'no ATO' option, which is intended to inhibit automated operation in zones where track workers are present.
Given that the Subway famously runs 24/7, this is 'a very common scenario' on the multi-track corridors such as Queens Boulevard, Beau explains. This makes some of the operating rules 'very complex', he adds, with 'many New York-specific aspects. The CBTC roll-out here will be unique, not least because of the patchwork approach where trains will leave and enter resignalled areas multiple times on some routes.'
Forward faster
Against the backdrop of political pressure to modernise the network, NYCT has pressed on, letting contracts for a further segment of CBTC on the F-Culver Line in Brooklyn south of the test section, and starting procurement to extend south from the end of the QBL section in Manhattan along the 8th Avenue corridor.
The Culver project covers CBTC installation between Church Avenue and West 8th Street as well as modernisation of the Avenue X and Ditmas Avenue junctions with solid-state interlockings; contracts were awarded in the fourth quarter of 2018 with an overall budget of $432m. Lead contractor for the programme is Tutor Perini Corp, with Siemens acting as the signalling subcontractor.
The 8th Avenue work would see CBTC installed between 59th St/Columbus Circle and High Street on the heavily used corridor served by the A, C and E trains. Renewal of the 30th Street and 42nd Street interlockings also falls within the scope of the $580m budget; contract award is expected before the end of the year.
Table 1. Fast Forward CBTC resignalling plan 2018 - 28
Lines
Sections
First phase
4, 5, 6
149 St-Grand/Concourse to Nevins St
E, F, M, R
Jamaica 179 St and Jamaica Center Parsons Archer to 50 St
F
Church Av to West 8 St/NY Aquarium
A, C, E
Columbus Circle to Jay St MetroTech
G
Court Square to Hoyt Schermerhorn
7
Flushing Main St to 34 St-Hudson Yards
Second phase
1, 2, 3
Jackson Avenue to Atlantic Ave/Barclays Center
B, D, F, M
59 St Columbus Circle and 21 St Queensbridge to Dekalb Avenue and Jay St MetroTech
A, C
Jay St MetroTech to Ozone Park Lefferts Blvd
A, S
Rockaway Blvd to Far Rockaway Mott Ave and Rockaway Park Beach 116 St
N, Q, R, W
Queensboro Plaze to Dekalb Avenue
Taken together, it is clear that NYCT envisages a rolling programme of resignalling. This objective crystallised in May last year, when NYCT President Andy Byford launched the Fast Forward plan to accelerate modernisation of the city's transport. While the report included significant investment in other modes including buses, resignalling of the Subway was a central tenet; the objective was to compress the timescale of planned work from 40 years to 10.
Split into two five-year phases, Fast Forward envisaged five lines being equipped with CBTC by 2023 — including those already completed — and a further five to follow by 2028 (Table I). In total, the plan envisaged that 5 million passengers/day would be travelling on CBTC-equipped lines within the next decade. Among the investment necessary to realise this vision is the fitment of onboard units to more than 1 200 metro cars.
Overlay approach
While NYCT has committed to rolling out CBTC for the next decade, its implementation strategy remains at odds with other large urban rail networks around the world. Automation of existing lines on ageing metro networks is becoming more common, with Paris Line 1 and the Four Lines Modernisation in London among recent examples.
In both cases, the CBTC replaced the legacy signalling and electro-
mechanical train control. On the Subway, CBTC is overlaid on the legacy equipment, which NYCT intends to retain for the foreseeable future. According to Siemens, some signalling assets have been removed from the Canarsie Line since its modernisation, but NYCT retained much as a fall-back option, so a service could still be provided in degraded mode using conventional methods should the CBTC become unavailable.
This overlay approach has significant implications, not least for the cost of running the network. Removal of life-expired equipment post-resignalling is normally a key element in the business case for conversion, helping to reduce the network's whole-life costs.
Realising the potential
It is clear that the CBTC programme to date has navigated an array of technical challenges. Yet it is equally clear that cultural and organisational challenges present a significant hurdle for NYCT and its suppliers. Those involved clearly see vast untapped potential from digitalisation of the network, even if wholesale automation of train operations is not realistically on the agenda. But NYCT is a large organisation and cultural change happens slowly.
Preliminary discussions are reportedly underway between NYCT and its suppliers aimed at harnessing the potential of 'big data' and real-time condition monitoring; the long train formations commonly used on the Subway could make door function an obvious area of focus, according to insiders.
However, patience is not a virtue found among many high-profile politicians. The state of the Subway remains a hot political topic, and on June 26 New York State Governor Andrew Cuomo announced that he and MTA Managing Director Ronnie Hakim would be meeting researchers from the Technion technology institute in Tel-Aviv as part of an official visit. The Politico news outlet quoted Cuomo rejecting CBTC as '1970s technology', and that Technion would be among the organisations enlisted to help him find a better alternative. On that evidence, the saga of signalling in the Subway is no nearer a conclusion.
This article originally appeared in the September 2019 issue of Railway Gazette International. On September 16, New York MTA issued its latest Capital Plan.