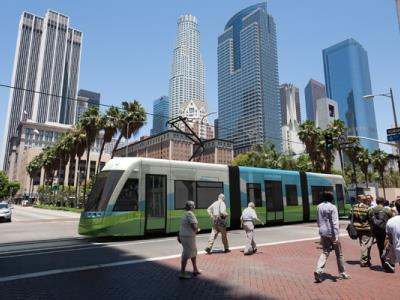 USA: On March 6 Los Angeles City Council approved the provision of $300m over 30 years for the operation and maintenance of a light rail line in central Los Angeles.
This follows voters' approval in December of a tax that is expected to raise $62·5m towards the construction cost. The city hopes to fund the remaining $75m through federal grants.
The city council also instructed the Department of Transportation, Bureau of Engineering and Los Angeles Streetcar Inc to look into the feasibility of catenary-free vehicles, and to draw up a project management plan within 30 days. An environmental review for the project is currently underway, and construction could start as early as 2014, with the line entering service in 2016.
The proposed 6·4 km route would run in a loop through Civic Center, Historic Downtown, Fashion District, South Park, Staples Center and Financial District.
'We are rapidly moving from a city that focuses on how many cars we can move to one that asks how many people we can move, and what are the best ways to do that,' said councillor Jose Huizar, who sponsored the motion.