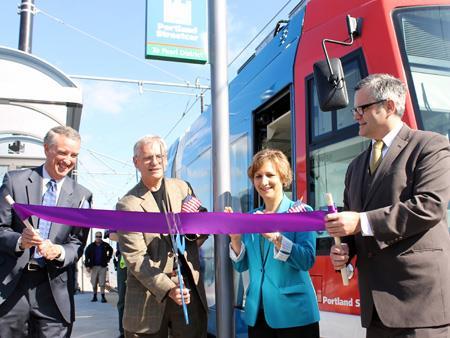 USA: The Portland Streetcar Central Loop opened on September 22, extending the city's tram service across the Willamette River to the east side of the city.
The 5·4 km CL line is operated as a one-way loop connected to the North-South Line. It crosses the Broadway bascule bridge, then runs along Martin Luther King Jr Boulevard, returning on the parallel Grand Avenue. It has 28 stops and is designed to provide a convenient and attractive alternative to short urban car journeys. The service has been aligned with existing traffic flows in an effort to attract new users to public transport.
Construction began in August 2009, with Stacy & Witbeck as general contractor. The project cost $148m, including $75m from the federal government. The state lottery contributed $20m to pay for six United Streetcar trams.
Future plans include an extension of the south end of the loop across the river on a new bridge to meet the north-south line and complete a circular route.