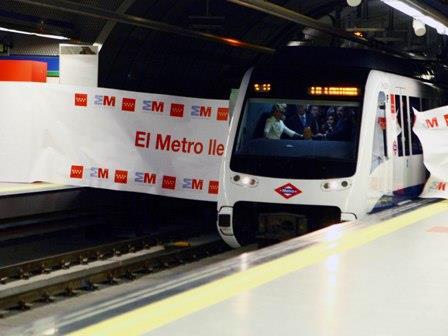 SPAIN: Esperanza Aguirre, President of the Madrid regional government, inaugurated the extension of metro Line 11 from La Peseta, in Carabanchel, to La Fortuna in Leganés on October 5.

The project cost €201·5m and involved boring a 3·2 km tunnel and construction of La Fortuna station beneath Serafín Díez Antón park. The 31 200m2 park has been renovated, and 250 m of cycle paths and three bicycle parks installed.

Platforms on the six existing Line 11 stations between Plaza Elíptica and La Peseta were modified during a weekend closure in mid-September to allow large-profile trains to be used on the route. Although originally built for large-profile trains, the platforms were initially widened to allow the use of narrow-profile vehicles.

The introduction in September of Series 8000 large-profile trainsets has increased capacity from 5 280 passengers/h to 7 045 passengers/h to satisfy demand on the extended route. Another 28 new cars will be added in 2011, raising capacity to 9 055 passengers/h.