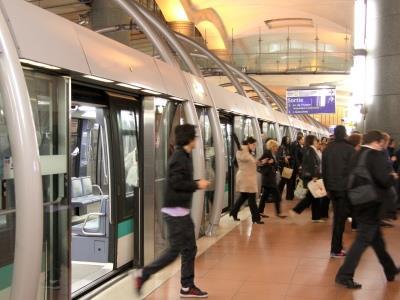 FRANCE: Speaking at a round-table forum with local authority and transport representatives from Paris and Ile-de-France on April 26, RATP President Pierre Mongin confirmed that the capital's fully-automated metro Line 14 would be extended from Saint-Lazare to the northwestern suburb of Saint-Ouen by 2017.
Mongin said a new transport master plan for Ile-de-France would be completed by July this year, allowing RATP to start negotiations with public sector funders for the northern extension to Saint-Ouen by mid-2012.
The extension is intended to relieve the northern branches of Line 13, which are becoming heavily overloaded for much of the day. RATP deputy Director-General, Operations, Yves Ramette, told the meeting that €300m was being invested to improve the capacity and reliability of Line 13 over the next few years, but this would not be enough. He expects the extension of Line 14 to absorb around 15% of the current ridership from Line 13, as well as extending the metro into parts of the city not served at present.
Ramette pointed out that the pioneering Météor line had proved the practicality of automated metro operation in Paris, suggesting that the rubber-tyred Line 14 had never suffered a serious failure in more than 10 years of operation.
In the longer term, Mongin envisaged that Line 14 would become 'a core axis' in the €30bn Grand Paris Express vision of an automated metro network overlaying RATP's existing routes. Extended at both ends to form a full cross-city trunk line, it would connect with both the inner and outer orbital rings connecting the expanding dormitory satellite towns now served only by SNCF's radial Transilien suburban network and a few RER lines.
RATP would like to see the metro extended to Roissy-Charles-de-Gaulle airport by 2030, serving the Pleyel development zone north of Saint-Denis. Mongin suggested that Line 14 could operate a dedicated airport express service between Saint-Lazare and Roissy every 15 min, offering a journey time of 27 min including a stop at Pleyel. This would require a four-track section near Gonesse where the express services could overtake the normal stopping trains running at 3 min headways. As part of the Grand Paris Express project, Line 14 would be extended south to Orly, providing a direct link between the two airports with a journey time of 60 min and no change of train.
As demand rises, RATP said trains on Line 14 could be extended from six-car sets to eight-car, extended them from 90 m to 120 m and raising their capacity from 720 to 1 000 passengers per train. This would lift capacity in the central section to 40 000 passengers/h per direction, with trains running at headways of just 85 sec.