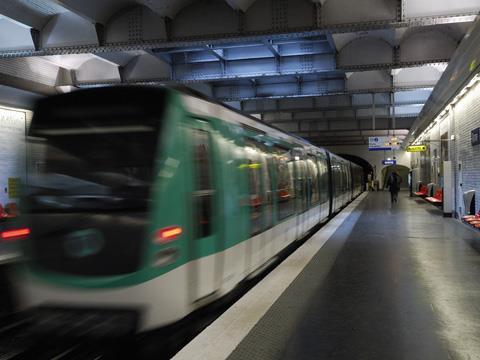 FRANCE: Minister for Cities Maurice Leroy and President of Ile-de-France Jean-Paul Huchon announced on January 26 that they had reached 'an historic agreement' about the future development of public transport in Greater Paris.
Between 2010 and 2025 no less than €32·4bn will be invested to build an automated metro around Paris and to modernise the existing network. The majority of this funding will be contributed by the state (€9·75bn), the region, local départements and STIF (€11·2bn) and local property taxes (€9·2bn). A further €5·5bn will be spent on acquiring and modernising rolling stock.
The proposed metro combines common elements of the Arc Express and Grand Paris project proposals put out for public consultation over the past few months.
An inner circle line would run from La Défense east to Saint-Denis Pleyel and Bobigny then head south via Val de Fontenay to St Maur. The southern section will run through Villejuif and Châtillon-Montrouge to Saint-Cloud Transilien and back to La Défense.
An eastern outer ring would link Le Bourget to Champigny-le-Plant via Clichy-Montfermeil and Noisy-Champs, while Roissy-Charles-de-Gaulle Airport would be served by a branch from Le Bourget. Line 14 would be extended north to Saint-Denis Pleyel and south to Orly Airport. However the national and regional governments have not yet reached agreement on a route to serve the Saclay area.
Funding worth €11·9bn has been allocated to existing upgrading and expansion projects, including the western extension of RER Line E to Mantes-La-Jolie via La Défense (€2·5bn), improvements to RER lines C and D (€1bn), and the extension of metro Line 14 to Mairie de Saint-Ouen to relieve congestion on Line 13 (€1bn). A number of projects are to be completed by 2020, notably the Tangentielle Nord and Massy – Evry tram-train routes and the extension of tram line T3 to Porte d'Asnières.
Following the announcement, Nathalie Kosciusko-Morizet, the Minister of Ecology, Sustainable Development, Transport & Housing, confirmed that the government would release €1·08bn between 2010 and 2013 to accelerate key urban rail improvement projects in Paris, subject to an agreement with the regional council about the works to be implemented.