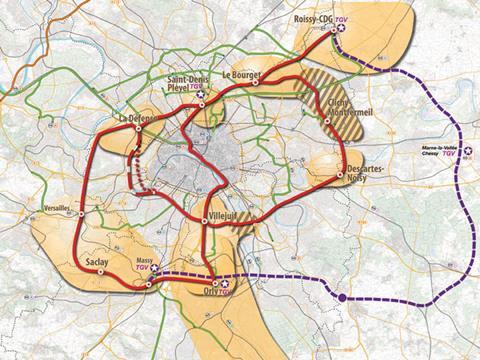 FRANCE: President Nicolas Sarkozy's vision for a revitalised Greater Paris region which was unveiled on April 29 includes €35bn of transport projects, designed to improve mobility in order to stimulate the economy and promote sustainable development in the suburbs.
The main proposal is the construction of 130 km of automatic metro lines around Paris, allowing passengers to travel between key destinations, such as the main airports, railway stations and business areas, notably La Défense, in 25 to 30 min.
An urban hub with a new TGV station and connections to the metro network is to be created in the northwest, at Saint Denis, to improve access to this marginalised zone.
A dedicated public body will be set up by the end of 2009 to design and implement the project. The organisation will be managed by the state but will have to work closely with STIF, the Ile-de-France region and other local governments, to co-ordinate activities. RATP is expected to provide technical support and STIF will be responsible for operating the network once completed.
Work will be conducted in two phases. The first stage involves extending metro Line 14 to the north and south, and the creation of a circular line running west from Villejuif via Issy-les-Moulineaux and La Défense and east via Saint-Maur, Noisy-le-Grand and Le Bourget, to meet at Pleyel in northern Paris. Line 14 will also be extended from Pleyel to Roissy-Charles de Gaulle airport. Work is expected to begin in 2012 with the first sections complete by 2017.
Eventually a western outer ring is envisaged between La Défense, Saclay, Massy and Orly, via Versailles, which would join up with a future southern extension of Line 14 from Villejuif to Orly.
To meet Paris' more immediate transport needs, Sarkozy presented a plan to accelerate existing RER projects with the aim of increasing capacity, frequency and speed on the RER network by 2017. Apart from new rolling stock, the priority is the western extension of Line E to Mantes to relieve pressure on Line A. The corridor from La Défense to Mantes should be built between 2012 and 2015 and a tunnel between Saint Lazare and Défense completed by 2017.
Requiring an investment of around €23bn, the métrophérique and RER projects will receive the lion's share of the €35bn funding allocated to transport. Several sources of finance will be considered by the working group set up for the purpose, led by Gilles Carrez. These include farebox revenue, dedicated local taxes, government subsidies, and revenue from wealth generated by transit-oriented development along the new network corridors.
The following day Jean-Louis Borloo, the government minister responsible for transport, announced the list of 50 projects selected to receive the €800m allocated by the government to help finance sustainable urban transport projects between 2009 and 2011. The list includes metro extensions in Marseilles and Lyon, and tram projects totalling 215 km in Lyon, Grenoble, Le Havre, Angers, Brest and Le Mans. A further call for projects will be issued at the end of 2010.