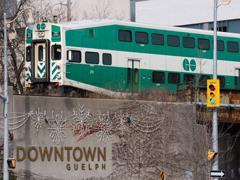 CANADA: Toronto commuter operator GO Transit ran its first train to Kitchener on November 26 as part of testing ahead of the launch of regular services on December 19.
Regional transit authority Metrolinx is investing C$18m to extend services on its Georgetown Line to serve the Kitchener-Waterloo area under an expansion project announced in 2010. The work includes renovations to the CN-owned line operated by the Goderich & Exeter Railway as well as construction of a new stabling facility at Kitchener where the outbound evening peak trains from Toronto will lay over to form inbound services next morning.
The route will initially be served by two trains per day, leaving Kitchener at 05.52 and 07.10 and returning from Toronto at 16.45 and 17.45; journey time is expected to be around 2 h. As well as serving existing stations along the Georgetown Line, the trains will also call at Guelph and Acton. However, the new station at Acton is not expected to open until 2012 as a result of construction delays.
Guelph and Acton both briefly enjoyed GO Transit services in 1990-93, but these were subsequently cut back to Georgetown. Kitchener and Guelph are also served by three VIA Rail trains in each direction.