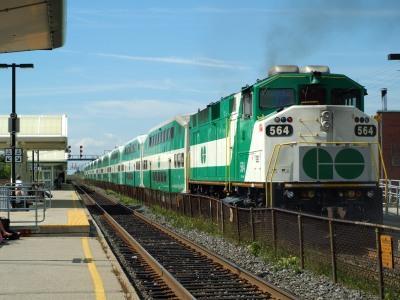 CANADA: Metrolinx, the regional transport agency for Greater Toronto and Hamilton, Ontario, confirmed on March 30 that it had completed the purchase of a section of CN's Kingston Subdivision for C$299m.
Running eastwards from Toronto's Union station to Pickering, Ontario, the two and three-track line is primarily used by GO Transit's commuter rail operations. Beyond Pickering, GO Transit's Lakeshore East services to and from Oshawa use their own dedicated tracks on a separate right of way.
Metrolinx President & CEO Bruce McCuaig said completion of the deal had given Metrolinx 'full ownership of an important segment of GO Transit's Lakeshore East commuter rail corridor from Union Station to Oshawa, and a direct connection to GO's Stouffville corridor. Owning this rail corridor section better positions GO to improve service, better control operations and plan future service growth', he added.
CN President & CEO Claude Mongeau said the railway was 'pleased to have concluded this sales agreement', which protects CN's operating rights 'to ensure continued service to its freight customers. CN has a strong partnership with Metrolinx and we will continue to support commuter rail as a sustainable mode of transport in the Greater Toronto Area.'
GO Transit outlined its intention to open negotiations to buy its key routes from the country's two main freight railroads in its GO 2020 Strategic Plan published in December 2008. As well as avoiding reliance on trackage rights agreements, the acquisitions would allow the passenger operator to upgrade the signalling and track to carry an estimated doubling of traffic over the next decade.
In December 2009 Metrolinx bought part of CN's Newmarket subdivision for C$68m, covering the 96 km corridor between Toronto and Barrie. Following the latest sale, Metrolinx now owns 61% of all the routes over which GO Transit operates.