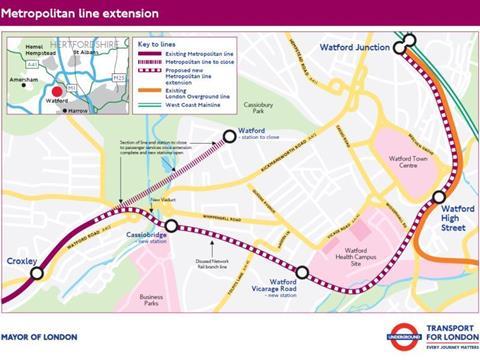 UK: The funding package for the Metropolitan Line Extension project has been finalised, London Underground announced on November 23. Construction is now expected to start next year, with completion due in 2020.
Previously known as the Croxley Rail Link, the project has until now been managed by Hertfordshire County Council. On March 27 LU announced that it was to take over responsibility once a funding package was agreed. The £284·4m cost includes a local contribution of £125·4m, £109·8m from the Department for Transport and £49·2m from Transport for London. The local funding includes £87·9m from the Hertfordshire Local Enterprise Partnership, which represents 40% of its total Growth Deal funding from the government.
The Metropolitan Line would be diverted from its current Watford terminus to serve new stations at Cassiobridge and Watford Vicarage Road before joining the current London Overground route south of Watford High Street and run on existing track to Watford Junction. Most of the route would follow the alignment of a closed branch line, and a 400 m viaduct would be built over the Grand Union Canal. Upon opening of the extension, the existing Metropolitan Line station at Watford would close, but it is to be retained for use as sidings.