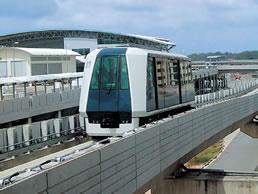 CHINA: Mitsubishi Heavy Industries has been awarded a 4·69bn patacas order by Macau's Transportation Infrastructure Office (GIT) to supply the rolling stock and railway systems for the first phase of the Special Administrative Region's automated light metro.

The contract, which is expected to be signed in February, specifies MHI's Crystal Mover technology. The four-car trains will be 47 m long and 2 800 mm wide with capacity for 476 passengers.

Construction of the 20 km line with 21 stations is expected to take 49 months, with opening envisaged in early 2015. Estimated cost is 7·5bn patacas. The proposed route runs between Border Gate and Barra in the Macau peninsula and then crosses the Sai Van bridge to Taipa and Cotai, serving the airport and the Pac On ferry terminal, where the line terminates (RG 8.09 p38). The Taipa section will be built first, with work due to start in mid-2011.

The two unsuccessful bidders were Siemens-China Civil Engineering Construction Corp, which offered 6·28bn patacas, and the Bombardier Transportation-China Road & Bridge Corp LRT consortium which bid 4·57bn. According to GIT, Mitsubishi's trains were the lightest, minimising the structural changes that would need to be made to the Sai Van bridge to enable it to carry the line.

The light metro is intended to operate at 3 min to 5 min intervals for 19 h a day. The line is initially expected to carry 7 800 passengers/h per direction, rising to 14 100 by 2020.