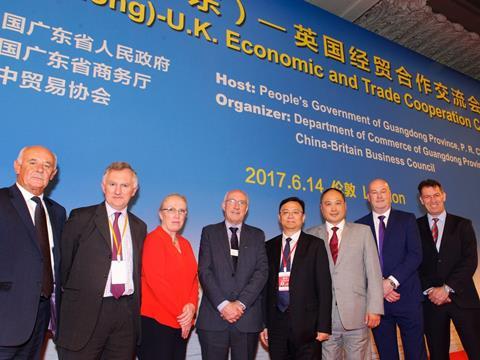 UK: RATP Dev London has selected a joint venture of Shenzhen-based BYD and Alexander Dennis as preferred bidder to supply 36 electric buses. The operator signed a memorandum of understanding with BYD on June 14 at the Guangdong Economic & Trade Co-operation Conference in London, and contract signature is due in the next few weeks.
The joint venture will supply its Enviro200 model, with deliveries starting in early 2018. The 10·8 m long bus with capacity for 76 passengers is designed for more restrictive route conditions than the 12 m long Enviro200 buses already in service in London. The supplier says that each battery-powered bus is guaranteed to complete a full day's duty cycle between charges.
The fleet will be based at London United's Shepherd's Bush garage. The buses will be put into service on routes C1 and 70, which are being converted to electric operation.
'RATP Dev London's strategic move to convert our Shepherd's Bush garage to zero emissions operations is closely aligned to the policy of our parent company to convert its Paris bus fleet to zero emissions operations', said Tim Jackson, CEO of RATP Dev's UK operations. 'We are committed to playing a leading role in the sector in the energy transition and there is close dialogue between the London and Paris operations over the technical, operational and commercial aspects of this transformation.'
BYD and Falkirk-based Alexander Dennis signed a joint venture agreement in 2015 to manufacture electric buses for the UK market.