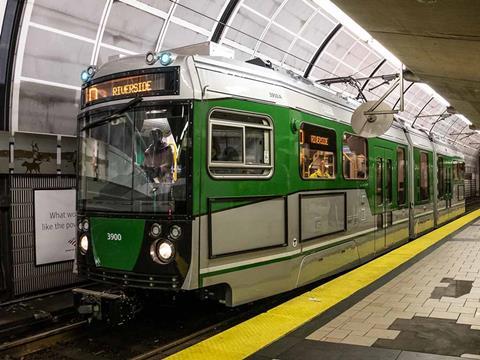 USA: The Massachusetts Department of Transportation and Massachusetts Bay Transportation Authority voted on June 18 to approve the 2020-24 capital investment plan.
This includes a contribution of $753·7m towards the Red and Orange metro line fleet replacement. CRRC is supplying 252 cars for the Red Line and 152 for the Orange Line under contracts awarded in 2014 and 2016. A further $591·5m in the investment plan has been allocated for depot and infrastructure modifications.
The two lines are also to receive signalling upgrades that would enable 3 min headways on the Red Line and 4½ min headways on the Orange Line. The investment plan allocates $253m for this. Further funding for the Red Line includes $109·5m for viaduct rehabilitation and $640·6m for other improvements. Modernisation of the Mattapan High Speed light rail line has been allocated $118m.
Funding for the Green Line light rail extension includes $1·1bn for infrastructure work, $86·7m for 24 vehicles that CAF is supplying and $29·4m for mitigation of service disruption during the work. The $2·3bn extension to Union Square and College Avenue is being funded from federal and local sources.
Other Green Line funding includes $296m for infrastructure upgrades, $214m to begin procuring Type 10 LRVs to replace the existing fleet, $83m for a train protection system and $55m for rehabilitation of the Lechmere Viaduct.
Commuter rail projects in the plan include the South Coast Rail project, which has $1bn to cover the cost of building the first phase. The installation of positive train control on all commuter rail lines is allocated $171·9m and $313·8m is being put towards the implementation of automatic train control on the North Side lines.