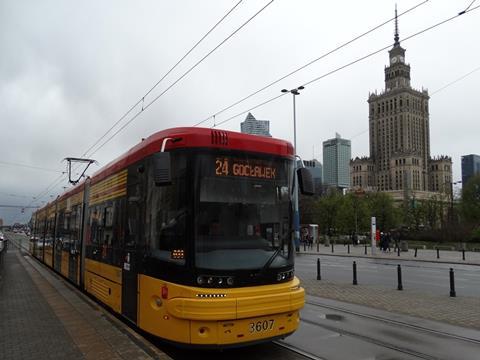 POLAND: Tramwaje Warszawskie has selected Hyundai Rotem as preferred bidder to supply up to 213 low-floor trams, the operator announced on February 8.
Rotem's bid of 1·852bn złoty excluding VAT beat those of Pesa, which offered a price exceeding TW's budget, and that by a consortium of Stadler and Solaris, which did not meet all the tender specifications. The order is being financed partly by EU funds.
The base order is for 85 bidirectional and 18 unidirectional trams 33 m long, as well as 20 unidirectional trams 24 m long. There are options for a further 45 bidirectional and 45 unidirectional 33 m trams. Deliveries are scheduled to begin 22 months after contract signature, with deliveries of the 123 trams from the base order due to be completed by the end of October 2022. If the options are exercised, they would be delivered a year later.
The air-conditioned trams would be used on the existing network as well as on planned extensions. At present 59% of the TW fleet comprises low-floor vehicles.