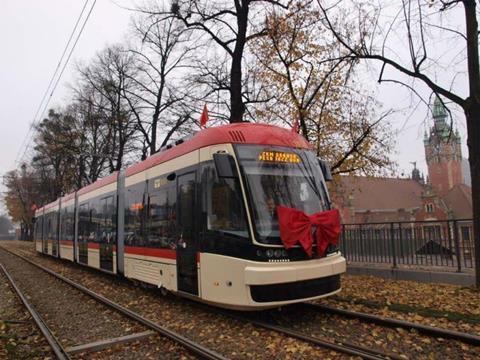 POLAND: The city of Gdańsk and tram operator GAiT signed a contract with sole bidder Pesa on February 15 for the supply of 15 bidirectional Jazz Duo trams, with options for 15 more.
The 138·4m złoty contract includes maintenance and staff training, and is 85% co-financed by the EU. The first 100% low-floor tram is due to arrive in December, with deliveries to be completed by mid-2019.
The five-section trams will be 29·7 m long and 2 400 mm wide with capacity for 206 passengers including 32 seated. They will include wheelchair and bicycle spaces, buttons with Braille and a defibrillator in the driver's cab. The air-conditioned trams will also be equipped with a passenger information system and USB charging sockets.
The vehicles will have a maximum speed of 70 km/h and be capable of climbing gradients up to 6%. They will be fitted with supercapacitors to store recovered braking energy.