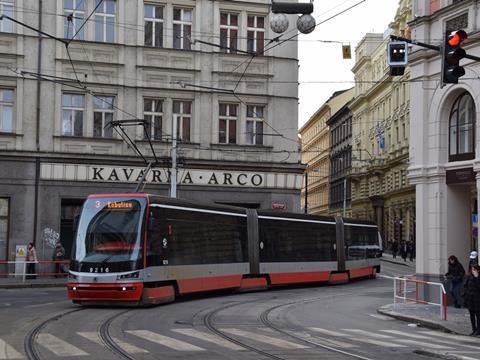 CZECH REPUBLIC: Three Škoda 15T trams equipped with automatic speed control entered service on the Praha network on November 21. Together with onboard track lubrication equipment, this aims to minimise wheel squeal, track wear and passenger comfort. The prototypes will be tested until next year, and if the trial proves successful, the equipment would be fitted to 22 more 15T trams.
Earlier this year trams operator DP Praha used a track recording trailer to create a detailed map of the city's network, which is used by the onboard software. This automatically adjusts the speed of the tram for the track section if necessary.
The three trams are also equipped with rail lubrication units. The complex nature of the network makes traditional trackside flange greasing devices unfeasible, so onboard rail lubrication has been DP Praha's preferred solution, and a lubrication tram was first introduced in January 2015.