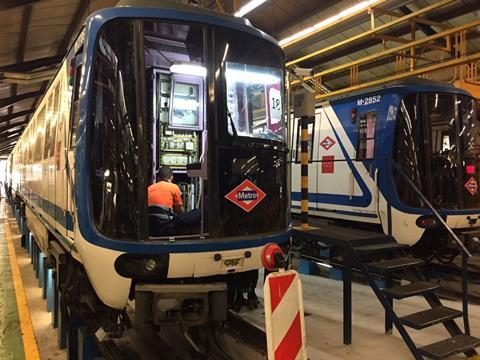 SPAIN: At its central rolling stock workshops in Canillejas, Metro de Madrid is currently undertaking a €20m programme to refurbish the 42 Series 2000 trainsets operating on Line 5 as well as 12 Series 3000 trainsets that are to be deployed on this route during 2018. This forms part of a €66∙5m programme to upgrade Line 5, also including resignalling, the installation of Tetra digital radio and the replacement of the overhead contact wire with a rigid conductor.
As well as new onboard signalling equipment, the Line 5 fleet is receiving LED lighting, while air-conditioning is to be upgraded and the train doors overhauled to improve reliability. A new driver's desk is to be installed and formations of three two-car trainsets are to be replaced with six-car trains.
Following refurbishment, the first 21 Series 2000 trainsets are due to return to traffic on September 3 when Line 5 reopens following a 62-day closure for upgrade works. The remaining Series 2000 trainsets are due to be refurbished by January 2018.
'All this work is intended to increase the frequency and number of trains operating on this line by up to 44%, and thereby provide a reliable response to the increase in demand experienced on Line 5', said Pedro Rollán, Minister for Transport, Housing & Infrastructure in the Madrid regional government.