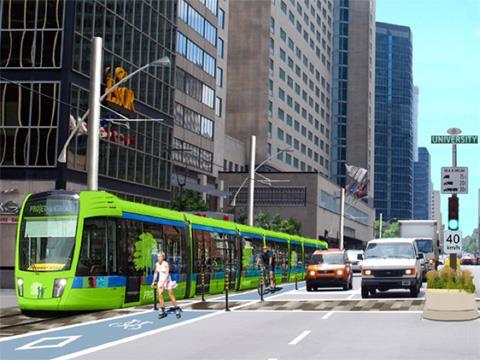 CANADA: On August 14 the city of Montréal released a study into proposals for a new tram line which had been commissioned from a consortium of Genivar and Systra.
The consultants recommend that the first line should begin in Old Montréal, then take a serpentine route following Peel, De La Commune and Berri streets and René Lévesque Boulevard, then Guy and Côte des Neiges, to terminate at Rue Jean-Talon.
The initial segment would serve city centre businesses and offices, universities and hospitals and could attract up to 80 000 weekday riders. The study proposes future extensions on Rue Sainte-Catherine, Avenue du Parc and Pie-IX Boulevard.
Mayor Gérald Tremblay is a strong supporter of trams, and is pushing for the first line to open by 2013. Montréal's last streetcar line was scrapped in August 1959.