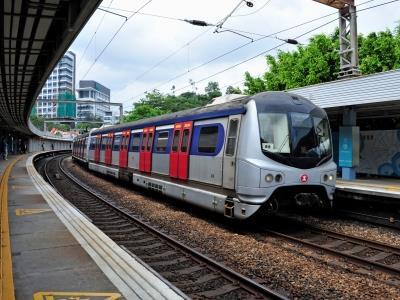 CHINA: Hong Kong's MRT Corp has placed two major contracts for new trains and signalling to modernise the former Kowloon – Canton Railway main line between Kowloon and the border station at Lo Wu, as part of the regional government's US$2·9bn 'Hong Kong 2020' railway investment programme.
The 41 km East Rail line is due to be extended by 6 km from Hung Hom to Wan Chai North and Admiralty on Hong Kong Island in 2020 as the second stage of the Shatin – Central Link project. The first stage of SCL, connecting the existing West Rail line at Hong Hum with the Ma On Shan line at Tai Wai, is due to be completed in 2018.
On December 14 MTR announced that it had awarded a HK$4bn contract to Hyundai Rotem for 37 nine-car EMUs, which will be 'mainly designed and manufactured in South Korea'. The first train is due to be delivered to Hong Kong for testing and commissioning in 2015, with the whole fleet is to be in operation by 2020. Rotem had previously been selected to supply trains for the Tseung Kwan O and Tung Chung metro lines.
Valued at HK$850m, the second contract awarded to Siemens covers the installation of CBTC to replace the current signalling on the 16-station route and to equip the extension. Siemens will provide its Trainguard MT technolology, together with an Airlink radio transmission network and a Vicos operations control system. Eight Sicas electronic interlockings will be installed along the former KCR main line, controlled from MTR's existing Operations Control Centre in Tsing Yi. The new signalling is to be installed and tested without interrupting regular operations.
Already adopted for resignalling of the København S-bane network in Denmark, Trainguard MT offers a full moving-block capability to facilitate automatic train operation and reduce energy consumption.
'The award of these two contracts is an important step forward in our commitment to enhance train service along the East Rail Line and its future extension across the harbour', said MTR Corp CEO Jay Walder.