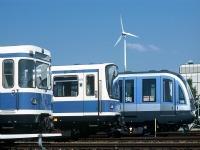 GERMANY: München transport operator MVG has announced plans to invest €135m in its metro and tram networks during the coming year.

Around €70m will go on metro improvements, including the modernisation of Hauptbahnhof and Marienplatz U-bahn stations and signalling at Scheidplatz. Other projects will include upgrading the power supplies to support 2 min headways from 2014, and fire protection, escalator, lift and passenger information modernisation.

The tram network has been allocated €45m, with work to include modernising R2 trams, track renewal on lines 12, 15/25 and 27, an extension of Line 19 to Pasinger, a turning loop at Lothstraße and planning works for the 8∙7 km Westtangente line between the Romanplatz and Aidenbachstraße metro stations.