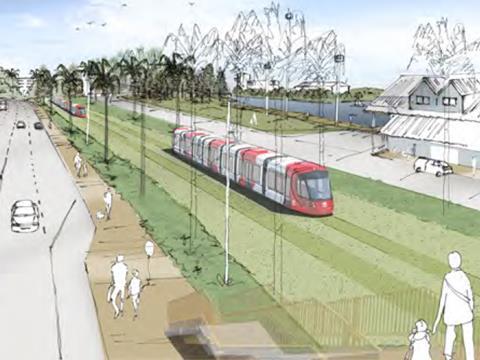 AUSTRALIA: The construction of a planned 2·6 km light rail line in Newcastle, New South Wales, is to be partially funded using the proceeds of the state government leasing the Port of Newcastle to a private investor.
At the end of April the Port of Newcastle Investments consortium of Hastings Funds Management and China Merchants was selected for the 98-year lease. A total of five bids had been received.
The state will receive A$1·75bn, of which A$1·2bn will go into an infrastructure fund. A total of A$340m has been earmarked for the revitalisation of Newcastle CBD, in addition to A$120m already allocated by the state government.
Under the light rail proposals, the current heavy rail service into Newcastle would be cut back to a new rail, bus and tram interchange at Wickham. Light rail services would then use either the current railway alignment, Hunter Street, or a combination of the two to connect Wickham with Newcastle Beach. It is envisaged that services would run every 10 min.
The replacement of the existing railway is intended to remove a barrier between the city and its waterfront, and the state envisages that the light rail project would drive urban renewal to 'reinvent Newcastle as a modern, vibrant city.'
In the longer term, the line could be extended from the CBD to surrounding suburbs and the wider Hunter region.