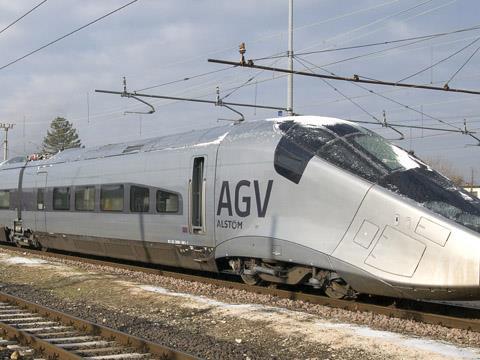 ITALY: Alstom's AGV demonstrator high speed trainset will begin a test programme in Italy on January 14, validating the Italian signalling and safety equipment required by launch customer NTV.
The prototype AGV trainset is expected to cover more than 60 000 km by July, running initially on the Roma - Firenze conventional line, then on part of the Roma - Napoli high speed line and finally on the Roma - Firenze direttissima. AGV has been developed for service speeds of up to 360 km/h, however according to Alstom the maximum during the Italian testing will be 335 km/h.
The trials follow two years of tests during which the trainset has covered 55 000 km at the Velim circuit in the Czech Republic and on LGV Est in France. For the Italian approvals process a customised version of the onboard software has been installed, and the cabs fitted with a second screen providing Italian SCMT data alongside the European standard ERTMS screen. Other national requirements include LED lighting.
Alstom Transport expects to complete the first of the 25 production trainsets for NTV this autumn. Certification will be obtained by mid-2011, with entry into service that year.