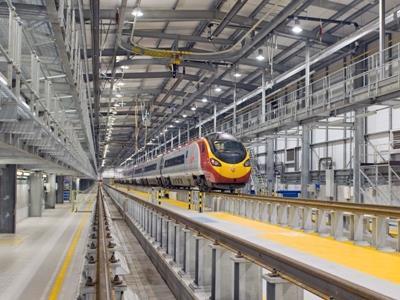 UK: A purpose-built depot designed to maintain and service Virgin Trains' Class 390 Pendolino trainsets was formally inaugurated by the Lord Mayor of Liverpool Councillor Mike Storey on May 12. Owned and operated by Alstom's West Coast Traincare business, the depot at Edge Hill will provide the extra capacity needed to handle an expanded fleet after Alstom delivers 106 additional Pendolino vehicles.
Built by Volker Fitzpatrick, the £15m depot has been funded by Network Rail, as part of the settlement for the write-off of a Pendolino trainset in the Grayrigg derailment on February 23 2007. It replaces an older shed used for overnight servicing since 2002, and increases the capacity at Edge Hill from five to eight trainsets per night.
The 300 m long two-track depot is designed to accommodate 11-car sets, with Mechan wheeldrops and overhead cranes, plus access platforms at various different levels and removable gantries for servicing the driving ends. Depot protection and overhead line isolation is provided by Zonegreen. Built-in services and supplies are located in the correct positions to suit both 11-car and nine-car formations.
West Coast Traincare is already using the new building to service Pendolinos each night and undertake interior repairs such as changing catering equipment, but the additional capacity will not be fully utilised until the additional vehicles come on stream in 2012.
Over the next two years the depot will be used by Alstom and Virgin Rail Projects to commission the additional vehicles, which are now under construction at the Alstom Ferroviaria plant in Savigliano. The first of four new 11-car trainsets is due to be delivered to Liverpool via the Channel Tunnel in November. Alstom is supplying 31 pairs of intermediate motor and transformer cars to lengthen some of the existing 52 trainsets, and these will be inserted at Edge Hill. Minor changes will be made to the configuration of the existing sets such as the addition of selective door opening controls. This work is scheduled to take place between April and December 2012, after the end of the current Virgin Trains franchise period.
Joining the Lord Mayor at the opening were Alstom UK Managing Director Paul Robinson (centre) and Virgin Trains' Business Development Director Paul Furze-Waddock (right)