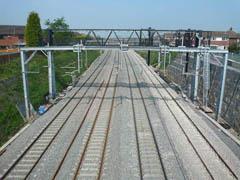 ALSTOM has notified the UK's Department for Transport that it is withdrawing from the Intercity Express Programme to supply the UK's next-generation of inter-city train.
'Alstom follows a specific process in assessing potential business opportunities, based on financial and technical input', a spokesman told Railway Gazette International. 'After a complete analysis of the invitation to tender document it has been decided to withdraw from the IEP competition and to focus instead on other major opportunities in the UK rail market for rolling stock, signalling and maintenance, where experience gained from existing, successful product lines can be maximised for the benefit of our customers.'
The decision not to submit a bid in response to the November 16 invitation to tender was supported by Alstom-Barclays Rail Group, the consortium formed with Barclays Private Equity. Alstom 'will actively pursue future opportunities' in partnership with the consortium 'where appropriate for both companies'.
IEP is being procured as a 30 to 35-year public-private partnership for a package to include manufacturing, maintenance and financing. The remaining bidders on the shortlist announced on August 16 2007 are Hitachi Europe Ltd and the Express Rail Alliance of Bombardier, Siemens, Angel Trains and Babcock & Brown.
Experienced rolling stock engineers have criticised the mass and energy consumption targets in DfT's technical specifications for the 200 km/h IEP as impractical.
Proposals for the electric, 'self-powered' (in practice diesel) and bi-mode (electro-diesel) trains are due to be submitted to DfT by May 6, with a contract expected to be signed by April 1 2009. Trials of five and 10-car pre-series trainsets on the East Coast Main Line are scheduled to begin in May 2012, with the replacement of existing inter-city rolling stock on the East Coast and Great Western main lines to follow from 2015. DfT anticipates a total fleet of approximately 1 500 vehicles if all IEP route options are taken up.