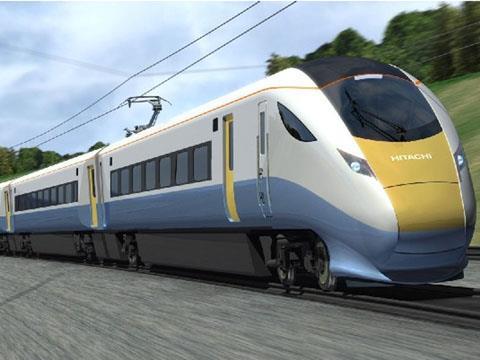 UK: Transport Secretary Geoff Hoon announced on February 12 that the Agility Trains consortium of Hitachi, John Laing and Barclays has been selected as preferred bidder for the supply of 'up to 1 400' vehicles as part of the government-led Intercity Express Programme.
Under the £7·5bn train service provision contract, for which the financing is due to be put in place by the end of this year, the consortium will introduce a fleet of 200 km/h Super Express trains for inter-city services on the East Coast Main Line from 2013 to replace existing IC125 and IC225 trainsets. The trains would subsequently be introduced on the Great Western Main Line between London, Bristol and South Wales, with widespread operation expected from 2015. The IEP design is also expected to be used on medium-distance commuter services from London to the Thames Valley and Cambridge. Options within the contract would see the trains introduced on the London - Exeter - Penzance route and on the West Coast Main Line.
Described by the Department for Transport as 'a British-led consortium', Agility Trains is to assemble the trains in the UK, using Japanese-built bodyshells. Sites in Gateshead, Sheffield and Ashby de la Zouch are being considered for the assembly plant. New depot facilities will also be created to maintain the trains.
The Super Express fleet will be formed of electric, diesel and bi-mode trains, all with a maximum speed of 200 km/h. Following succesful trials of the Hayabusa powercar equipped with onboard battery energy storage, the diesel and bi-mode trains will use hybrid technology to reduce fuel consumption by 'up to 15%'.
Vehicles will be 26 m long, rather than the current 23 m length used in the IC125 and IC225 fleets. The Super Express design for the East Coast Main Line is expected to offer an additional 113 seats with a weight saving of 86 tonnes when compared to an IC225 trainset.
The rival bidder, the Express Rail Alliance of Bombardier, Siemens, Angel Trains and Babcock & Brown, has been asked by the Department for Transport to maintain its status as reserve bidder until 'satisfactory terms' have been agreed between DfT and Agility Trains.
Additionally, Bombardier has been named as preferred bidder to supply 120 EMU vehicles for National Express East Anglia to operate services between London and Stansted Airport. These trains will be built at Derby.