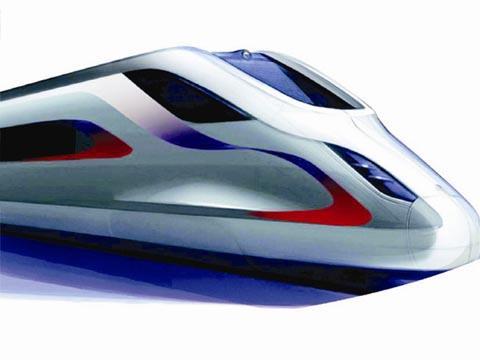 ITALY: Following Alstom's announcement of an addition to its high speed train range on June 8, Bombardier Transportation's Country President Italy, Roberto Tazzioli, has revealed further details of his company's response to Ferrovie dello Stato's tender for 50 very high speed trainsets.
To boost the local content of the planned product, Bombardier plans to create a 60:40 partnership with AnsaldoBreda to produce an eight-car, single-deck trainset to be branded V300 Zefiro. The train would deploy technology developed for both companies' most recent products in this segment - Bombardier's 380 km/h Zefiro for China and AnsaldoBreda's V250 for NS Hispeed services in the Netherlands and Belgium.
Like Alstom's planned offering, the V300 Zefiro is designed as a non-articulated trainset with distributed traction. In response to the specification issued by FS, it would have an initial operating maximum speed of 300 km/h, but commercial speed would be 360 km/h. To meet European Technical Specifications for Interoperability, this would require the train to be tested at up to 400 km/h. Depending upon internal configuration, the train would have capacity for up to 600 passengers within a length of 200 m. The train would be equipped for cross-border operation into France and Switzerland. Tazzioli added that FS had specified that the winning bidder's train would exert no greater track force at 360 km/h than existing trains do at 300 km/h.
Bombardier confirmed that the partnership with AnsaldoBreda would ensure production of a fully TSI-compliant train, unlike its Chinese Zefiro. Tazzioli refused to comment on exactly which components would be sourced by which company, but it is thought likely that control equipment and drive gear would be supplied by Bombardier, with bodyshells and final assembly undertaken by AnsaldoBreda at its Pistoia factory.
The arrangement between the two groups stops short of the creation of a joint venture company, instead using an Italian legal convention allowing temporary corporate alliances for the purpose of a single contract bid. However, Tazzioli confirmed that if the V300 Zefiro were to be selected by FS, Bombardier would then become the lead developer in a partnership to offer the train in other markets such as Russia and Brazil.