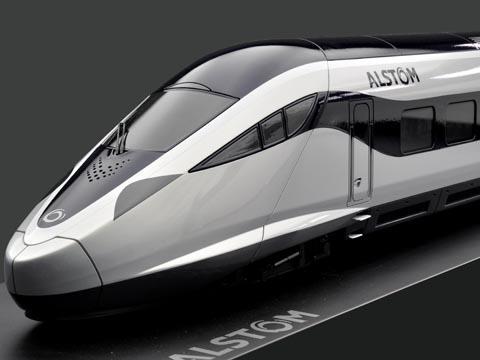 ITALY: Alstom Transport revealed a further addition to its portfolio of high speed trains at the Expo Ferroviaria event in Torino on June 8. The design, which does not yet have a name, combines elements of all of the company's existing products in the high speed sector, including the AGV and Pendolino.
The 'platform' will initially be offered as Alstom's response to a tender for 50 high speed trains issued by Trenitalia, the preferred bidder for which is due to be announced next month. Alstom's new train is a highly modular, single-deck trainset designed for operation at between 220 km/h and 400 km/h.
Trenitalia expects to deploy its trains at 360 km/h in competition with open access operator NTV. Unlike the articulated AGV, Alstom's new model would feature individual bogies under each car and asynchronous motors. Trains for the Italian market would be manufactured locally, with final assembly at Savigliano using components from other Alstom factories in the country.
An eight-car trainset could have capacity for up to 600 passengers, dependent on internal configuration. Alstom says that customer demand is driving the design of single-deck trains that will provide similar capacity to the double-deck TGV Duplex.
In the longer term, Alstom expects to target the Russian and Chinese markets with the new design, which has roof-mounted air-conditioning equipment to give better performance in extreme temperatures. The manufacturer will continue to offer its existing range of Pendolino, TGV Duplex and AGV trains alongside this new offering.