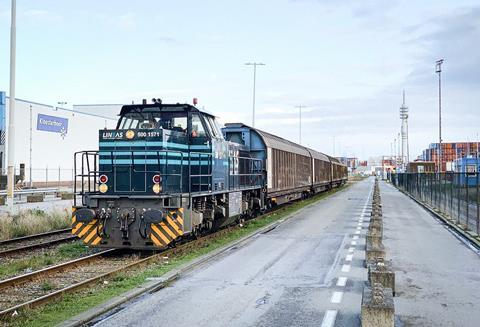 NETHERLANDS: Alstom, Lineas and ProRail have announced their intention to trial unattended autonomous shunting from early next year.
The partners believe that this will be the first trial in Europe to use Grade of Automation 4 for shunting in freight yards. GoA4 is the highest level of ATO, requiring all of the standard operating functions to be performed without any onboard crew.
The tests will see a Lineas diesel-hydraulic shunter equipped with Alstom's automatic control technology, and intelligent obstacle detection and recognition tools. The project will initially focus on the development of the software for automating tasks such as acceleration and braking, coupling wagons, controlling the traction system and handling of emergencies.
Tests will start in a marshalling yard on the ProRail network in 2021, under the supervision of authorised staff.
'This project is paving the way for fully digitalised railway', explained Bernard Belvaux, Alstom Managing Director for Benelux. 'These tests will help the European rail system benefit from an increase in capacity, reduced energy consumption and cost while offering higher operational flexibility and improved punctuality. This test is fully in line with Alstom's strategy to bring added value to our customers for smart and green mobility.'
'Technologies like ATO can increase safety and efficiency for both our train drivers and our customers', added Lineas CEO Geert Pauwels. 'This will be key if we want to capture the 30% transport growth on rail instead of on already saturated roads.'