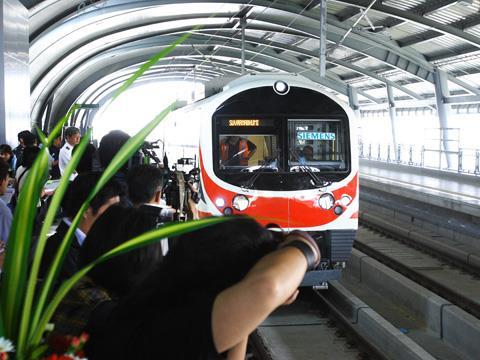 THAILAND: Minister of Transport, Sophon Zarum, and State Railway of Thailand Chairman Youtdana Tupcharoen travelled on test run of Bangkok's Airport Express on February 12.
In 2005 SRT awarded Siemens Mobility and Thai partners B Grimm and Sino Thai Engineering & Construction the contract to build a 28 km elevated standard gauge railway linking Bangkok's new Suvarnabhumi airport with the city centre.
Siemens and B Grimm are responsible for electrical and mechanical equipment and railway systems, including the track, signalling and fleet of nine Desiro EMUs. They are also supplying airline check-in and baggage management systems.
Two rail services will share the line. The Suvarnabhumi Airport Express will run non-stop on a 25·7 km section between the airport and the city centre, while the City Line has six stops and extends a further 3 km to Phaya Thai, where passengers can transfer to Skytrain services.
The first of the five City Line EMUs undertook 160 km/h test runs on January 18. This followed the energisation the day before of the traction substation and 25 kV overhead lines. The line will be handed over to SRT once system testing and integration has been completed.