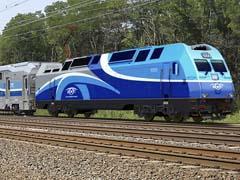 NORTH AMERICA: Bombardier has been selected to supply New Jersey Transit and Montréal suburban operator AMT with a total of 46 electro-diesel locomotives for commuter services.
Announced on August 18, the €178m order from NJ Transit covers 26 locomotives with options for a further 63. These will enable more services to operate through from non-electrified lines into New York Penn Station.
AMT has placed a €152m order for 20 locomotives with options for 10. These will be used on services running from the planned Repentigny - Mascouche branch into Montréal Central station via Mont Royal tunnel, which is electrified at 25 kV AC.
The locomotives will be a dual-mode diesel and AC overhead electric evolution of the ALP-46 electric design in service with NJ Transit since 2002. They are to be built in Germany and Poland for delivery from 2011.
On August 13 NJ Transit agreed to exercise an $76m option with Bombardier for an additional 50 double-deck coaches, bringing its total order to 329 of the vehicles.