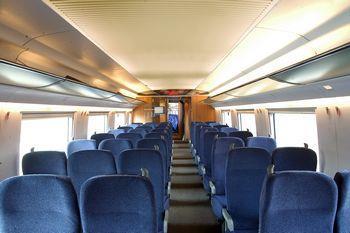 CHINA: On March 16 the Ministry of Railways signed a contract with China CNR Corp for the supply of 100 CRH trainsets to operate the 1 318 km high speed line between Beijing and Shanghai at a maximum speed of 350 km/h. Total value of the deal is put at 39·2bn yuan (US$5·7bn).
The 400 m long trainsets will each accommodate 1 026 passengers and the first sets are expected to enter service in October 2010, ahead of the current target date of 2011 for completion of the new line. The trains are expected to be tested at up to 400 km/h before entering service.
According to Zhang Shuguang, Director of the ministry's Transport division, the trains will be built using domestic technology developed by CNR without outside assistance. The intention is that 70 sets wouuld be built at Tangshan and the remaining 30 at Changchun.
Tangshan Railway Vehicles, Chanchun Railway Vehicles and the Chna Academy of Railway Sciences have signed a joint venture agreement with Siemens for terchnical assistance and the supply of electrical equipment and bogies for the new trains; valued at around €750m. Tangshan is currently assembling 300 km/h CHR3 Velaro trainsets under a technology transfer agreement with Siemens.
Zhang also confirmed that the ministry expected to place orders for new trains totalling 500bn yuan over the next four years, including around 1 000 high speed trainsets. According to Siemens, the contract includes options for further builds of CRH trainsets to operate the Wuhan - Guangzhou and Wuhan - Shijiazhuang high speed lines now under construction.