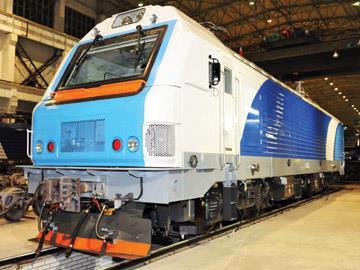 BELARUS: The first of 12 Class BCG-1 electric locomotives being built for Belarus Railway was completed at CNR's Datong plant in December.
Ordered in October 2010 at a cost of 700m yuan, the 9·6 MW, 25 kV 50 Hz twin-section locos are derived from the HXD2 heavy-haul locomotives being assembled by CNR for the Chinese market.
The February 2012 issue of Railway Gazette International looks at how Chinese manufacturers have entered the international market, with an exclusive guide to locomotive and rolling stock contract wins in Europe, Australasia and selected other markets. Senior Engineer Yang Xiongjing explains how China CNR Corp is targeting export markets, while CSRE Ltd Managing Director David Shipley describes the SDA1 locomotives CSR Ziyang is delivering to Australia.