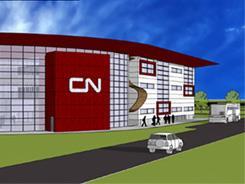 CANADA: A groundbreaking ceremony at Canadian National's Transcona workshop in Winnipeg on September 28 launched the construction of the first of two 'state-of-the-art' staff training centres. Work on the second facility at the Woodcrest Mechanical Shop in the suburbs of Chicago is to begin next year.
'These facilities will be the centrepiece of CN's enhanced railroader training programme', said President & CEO Claude Mongeau. 'The centres in both Canada and the United States will include a modern training curriculum and equipment to effectively train a new generation of railroaders.'
New recruits and existing employees in jobs ranging from conductor to locomotive mechanic and from track supervisor to signal maintainer will receive training at the centres. The Winnipeg facility will host 250 to 300 employees a week, and the US site 100 to 125. The programmes will have a uniform curriculum, with dedicated local staff at each location.
Attendees will receive hands-on training in indoor learning laboratories with equipment including locomotive simulators and dispatcher stations. Outdoor labs will have dedicated rolling stock and other equipment for field training.
'We hope this training programme and these centres will ultimately become a benchmark for the railroad industry', said Mongeau.